National Trust launches tree avenue survey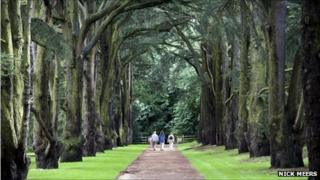 The National Trust is launching a survey of all its tree avenues in an attempt to find out more about where they are and the condition they are in.
It estimates it has around 500 avenues, which were first planted to provide a natural picture frame to improve views.
The trust said tree avenues exemplify "man and nature working in harmony".
Property staff and volunteers will be trained to record information on the number and age of trees, species, spacing and their health.
The survey will also look at the wildlife species that rely on the avenues as their habitat.
The National Trust has no central database of information on the avenues and launched a survey of all ancient trees in its care two years ago.
Notable tree avenues found on National Trust land include the 731 trees in the beech avenue at Kingston Lacy, in Dorset, which were a gift from aristocrat William John Bankes to his mother Frances.
Prioritising funding
Despite originally being conceived to provide picturesque views, tree avenues now also provide habitat for wildlife such as bats, which use the rows of trees to navigate, feed around and roost in.
They contain numerous ancient tree specimens and many tell the stories of their creation, such as the Spanish chestnuts at Croft Castle, Herefordshire, which were planted using seeds from the Armada wrecks in 1592.
But many face the threat of diseases, such as acute oak decline, which can spread easily between trees and the survey will help prioritise funding for their future protection.
Brian Muelaner, National Trust ancient tree adviser, said: "Tree avenues are the perfect example of man and nature working in harmony.
"This new survey will give us the opportunity to understand more about these spectacular natural monuments which are rooted in the history of the places they appear."
He added: "They also link habitats - you could have a very important wooded habitat, then an avenue, then another important habitat, and without the avenue they would be two islands and it would be very hard for species to migrate between them."
The trust, which has properties in England, Wales and Northern Ireland, still plants avenues to restore historical design features or replace sites which have been ravaged by disease.
In the 1970s it replanted the south avenue at Wimpole Hall, Cambridgeshire, the vista of which had been destroyed when Dutch elm disease struck the trees.