British troops' supply chain could fail, MPs warn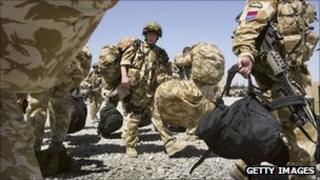 Front-line troops in Afghanistan could be hit by shortages of vital equipment within 30 days if the system responsible for sending supplies to them breaks down, MPs have warned.
The supply chain for British troops is at "critical risk of failure", the Commons public accounts committee said.
The Ministry of Defence has admitted IT systems managing supplies were "not adequate", the report said.
The government said it was investing £800m to upgrade the supply chain.
This would ensure it was "as efficient and cost-effective as possible", said defence equipment minister Peter Luff.
The supply chain includes "every single thing that is needed to support our forces overseas", a spokesman for the committee said. This includes ammunition, medical supplies and clothing transported to troops by air.
'High risk'
The report said there was an "extremely high" risk that the MoD's warehouse inventory systems could fail, and this risk was recently rated "critical" by the MoD's Defence Logistics Board.
"If these systems fail, then the result could be shortages at the front line within as little as 30 days," the report said.
The committee said the MoD had spent £75m on upgrading the systems considered to be at the highest risk.
It said the £800m programme to overhaul the entire warehouse inventory management system - known as the Future Logistics Information Services project - would not be complete until 2014.
"We are very concerned that, until the systems are fully rolled out in 2014, the high risk of system failure will remain in systems that are critical to supporting front-line troops," the report said.
'Missed targets'
Committee chairwoman Margaret Hodge said there had been problems with the supply chain for many years.
"The MoD has a duty to make sure that our troops serving on the front line get the supplies they need, when they need them and in the most cost-effective way," Mrs Hodge said.
"For 25 years, the department has promised this committee that it would resolve the long-standing problems associated with its supply chain: late deliveries, missed targets and inadequate cost information. Yet these problems persist."
Defence equipment minister Peter Luff said the supply chain was complex.
"Ensuring our armed forces on the frontline have all they need is a top priority and there are no shortages in Afghanistan," said Mr Luff.
"The complexity of supplying a conflict zone should not be underestimated and we have successfully kept our troops supplied, overcoming major challenges like the Icelandic ash cloud and disruption to overland supply routes in Afghanistan."