Phone-hacking letter not covered up - News International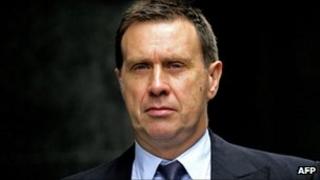 Lawyers for News International say it is unfair to suggest there has been a "cover-up" over a letter alleging phone hacking.
MPs released a letter from former News of the World reporter Clive Goodman in which he alleges that the editor knew what he was doing.
A second version of the letter, supplied to MPs by News International, excludes references to the editor.
Lawyers for the company say redactions were made following police guidance.
Mr Goodman, the former royal editor, sent the letter to News International saying he had been unfairly dismissed after being jailed for phone hacking in 2007.
He said that phone hacking was widely discussed in the daily editorial conference until explicit reference to it was banned by the editor - although he does not say when that was.
He added that as he prepared for court he struck a deal with the then editor, Andy Coulson, and a company lawyer meaning he could come back to work after his case, providing he did not implicate colleagues.
MPs were given the letter by Harbottle and Lewis, a law firm brought in by News International to investigate the Goodman affair at the time. The version published on the website redacts (edits out) the names of people that Mr Goodman alleges knew about hacking.
The committee also published a second version of the letter, supplied by News International, which includes further redactions, omitting references to the daily editorial conference, editor and Mr Goodman's claims that he agreed not to implicate colleagues.
News International's law firm, Linklaters, has now written to the select committee saying the redactions were made following guidance from the Metropolitan Police.
"There has been some media comment over the last two days suggesting that News International made these redactions in order to 'cover up' the truth," said Linklaters.
"That is not correct. News International voluntarily submitted this letter in unredacted form to the Metropolitan Police in June of this year.
"It cannot fairly be asserted that the company was trying to 'cover up' this letter when it had itself given the entire letter to those responsible for the relevant criminal investigation.
"The redactions were made following guidance from the Metropolitan Police. Those redactions were made by a partner from this firm.
"No News International or News Corporation officer or employee took any part in deciding what to redact.
"The redactions were made in order to remove any content which might identify any individual or group and to avoid any prejudice to any new line of enquiry.
"The Metropolitan Police are anxious to ensure that their investigations are not prejudiced and that any trial is not rendered unfair by widespread publicity. News International shares this concern."
A spokesman for Scotland Yard confirmed that the letter from Linklaters was correct. He said the Met had asked for redactions to be made to the Goodman letter - but would not say what those redactions were.