We're dreaming of going home, say UK's Libyans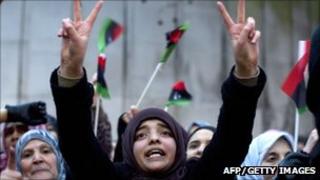 As the Gaddafi regime appears to be crumbling, how are Libyans living in Britain viewing developments in their home country?
Muayed, 26, a PhD dentistry student at Manchester University, who has been in the UK for three years, is cautious when he speaks about his hopes that Tripoli will be liberated.
"It is the last city under his [Gaddafi's] control and he won't give it up very easily," he says.
He says he fears for his family in the city and he calls them every two hours to check they are ok.
"It's very difficult being here and knowing that they are suffering living in these circumstances," he says.
He adds: "This is a big moment.
"We're happy this is the beginning of the end, but the beginning of the end will be very costly."
He hopes to move back to Tripoli to be with his family when the conflict is over.
"Sometimes when I speak to them [family] they make me cry," he says.
"My sister came to visit me last year and spent two weeks here and then went back to Libya where she is now.
"She always says 'Do you remember when we went here or did this' and she says 'If I'm still alive I will come and visit you next year'. They feel as though they could be killed any moment."
Khaled, a Libyan living in London, says there is a sense these are "the death throes of the Gaddafi regime".
"At the moment there is self-imposed security lockdown [in Tripoli]. People are too afraid to leave their homes," said Khaled, who has 84 cousins trapped in Tripoli.
"Once the rebels gain a foothold in Tripoli residents will come out in force and show their support."
'Saying goodbye'
Anwar, who lives in north London, says she and much of the community there are "dreaming of going home".
"We are all united together and are working hard to make sure that we can help from where we are," she said.
"The feeling among us is that the end is very, very near, and we anticipate that the fall will be pretty fast from here on in."
Anwar's relatives are in the capital, where she says Col Gaddafi's forces have been attacking residential areas and protesters in the streets, leaving many injured.
It can be difficult to reach her cousins, uncles, aunts and grandparents over the phone, and when she finally does she can hear just how close the conflict is.
"Our concern is for people's lives there," says the 29-year-old, who left Libya aged five.
"A lot of my phone calls consist of saying goodbye."
Anwar has not been back since the uprising began, but she is hopeful she has a future in Libya. She runs her own clothing label and would like to have dual businesses in London and Tripoli.
"We're dreaming of going home and thinking about what kind of dance we're going to do [when we get there]," she says.
"I'm hopeful that the next time us Libyan Londoners will see each other will be there, back in Libya."
She said they would be anxiously watching TV news, monitoring social networks and speaking to friends and family in the coming days.
"We wish we were there but because we can't be there we are here praying and supporting them and thinking of them.
"That is all we can do."
'Heart beating for Tripoli'
Abdelatif, 45, left Libya six years ago and now lives in Manchester, home to the UK's largest expatriate Libyan community, where he runs a takeaway.
His brother was shot dead during protests in Benghazi, and he also lost his cousin, but has never found out how he met his death.
"My brother was very important for me and he sacrificed his life for this revolution so I am waiting for the result of this," says Abdelatif.
The former engineer in Benghazi visited the area earlier this month and says there is a new feeling of hope in the area.
And he says that sentiment is echoed more than 1,600 miles away back in Manchester.
"Everybody is excited and feeling that it [the conflict] is nearly over," says Abdelatif, who lives with his wife and three children in the St Helens area of the city.
"I don't want to be too optimistic but it is the holy month of Ramadan and [if the conflict ends] the happiness would be doubled."
Abdelatif says he would like to move back to Libya, but since the uprising he feels a stronger connection with Tripoli than his hometown of Benghazi.
"I wish to live in Tripoli," he said. "My heart is beating for Tripoli more than ever."
'Excitement and apprehension'
Manchester, which is known as "Mini Tripoli", has been the scene of a number of peaceful protests against Col Gaddafi's 42-year-long rule since February.
Sondes, 29, a mother and political activist from the city, is among those who will watch events in her home country very closely over the coming days.
She has always lived in Manchester but has family spread across Libya in Benghazi, Brega, Tripoli and Misrata.
Her father Mohammed, a critic of Col Gaddafi's regime, left Libya for the city 29 years ago because he feared for his life. He is now now chairman of UK-based Libya Watch.
"It's the moment that everybody has been waiting for," said Sondes of the rebels' push towards Tripoli.
"It feels like it was 17 February [the start of the uprising] all over again - so much excitement and apprehension."
She adds: "We know it's the end but it's about hoping that there is no bloodbath in Tripoli."
Another anti-Gaddafi protest took place on Sunday outside the BBC's offices in Manchester, and Sondes was there.
"It felt like everybody was there and everybody was chanting from the heart," she said.
"We really wanted to let Tripoli know that we are standing with them from Britain. We're there in heart and soul even if we can't be there in body."
Sondes has a seven-month-old son, and she hopes she can one day take him home.
"The best thing about it is that he's not going to know the Green Book [in which Col Gaddafi sets out his political philosophy], he won't know the green flag and he won't know Gaddafi," she says.