Newspaper review: Rebel advances threaten Gaddafi reign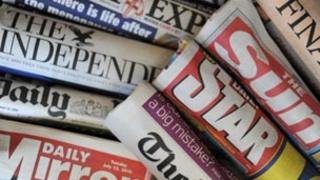 The arrival of rebels in Tripoli, and the potential end of Colonel Gaddafi's rule as Libyan leader, dominates the day's newspapers.
The Times's headline is "Gaddafi on the brink", while its report describes a day of "dramatic battles and stunning gains" for opposition forces.
The Daily Mail says the crowds of rebel supporters were "jubilant".
The paper says rebel "sleeper cells" in Tripoli had been secretly armed in a "daring plot" to end Libya's civil war.
The Independent says parts of the city were in flames on Sunday, as the regime sent tanks into residential areas and opened fire on crowds in what the paper calls "a desperate attempt to claw back control".
Rebels greeted
"We will win this war", one young Libyan rebel tells the Guardian.
When asked why, he replies: "Because we believe in God. God and then Nato".
Thousands of Tripoli's citizens have lined the streets to greet the arriving rebels, according to the Sun.
Meanwhile, in other news, the Daily Telegraph says more than half of Britain's highest-paid council bosses raised their own pay last year.
The paper says chief executives have seen their pay rise by as much as £17,000.
The Independent says family finances are now worse than at the height of the recession in 2009.
But the Financial Times, having spoken to analysts, says the consensus is that Britain will not re-enter a recession, despite widespread gloom.
Nice plaice
David Cameron and his wife, Samantha, are pictured in almost all the papers shopping for fish in Cornwall, where they have resumed their summer holiday.
Their trip to Tuscany was interrupted by the recent riots in England.
The Daily Express quotes Mr Cameron as saying he should not be "begrudged" time off.
But the Daily Mirror asks if a holiday is appropriate while Libya is at a critical stage, and the economic crisis is deepening.