Ship due to pick up Britons from Libya comes under fire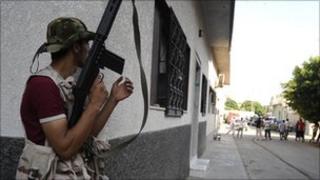 A Maltese ship which was due to rescue foreign nationals - nine of them British - from Tripoli, Libya, came under fire on Sunday and was forced to retreat, the Times of Malta has said.
It said cargo ship Triva I was due leave Tripoli on Sunday morning.
The MoD said HMS Liverpool had towed a Maltese-registered vessel, damaged by hostile fire, to open waters.
On Sunday, Foreign Office Minister Alistair Burt said up to nine Britons had decided to leave on a Maltese ship.
Heavy fighting is taking place in Tripoli around the compound of embattled Libyan leader Col Muammar Gaddafi, after rebels seized control of much of the city.
Jubilant crowds have gathered in central Green Square, previously the scene of nightly pro-Gaddafi demonstrations.
According to the Times of Malta, about 15 Maltese who remained in Tripoli were expecting to board Triva I - which can carry about 60 passengers - on Sunday.
A number of Polish, British and Lebanese nationals were also planning to board the boat at about 09:00 local time. A pregnant Polish woman and her three children and up to nine British nationals were also expected to leave on the vessel, it said.
Reports that the Maltese ship had come under fire first emerged on Sunday, when AFP news agency reported Polish officials as saying it had been forced to retreat to sea after being hit by gunfire.
Migrant help
On Monday, Major General Nick Pope, the chief of the defence staff's communications officer, said: "At sea, HMS Liverpool was conducting surveillance off Tripoli when she sighted a small Maltese-registered vessel which had been damaged by hostile fire while leaving Tripoli port, apparently with evacuees embarked.
"The vessel was under way but her manoeuvrability was impaired. HMS Liverpool passed a line to the vessel and towed her to open waters where she was able to proceed safely.
"Liverpool alerted the Maltese authorities to the vessel's condition, and then was able to return to her duties off the coast."
Meanwhile, the International Organisation for Migration (IOM) said it had dispatched a ship to Tripoli to evacuate migrants.
It said the ship - which has the capacity to carry 300 people - left the eastern city of Benghazi on Monday, and was due to arrive in Tripoli on Tuesday.
More than 5,000 Bangladeshis, Filipinos and Egyptians have asked the migration agency for help to leave the capital, it said.
Those evacuated to Benghazi will taken by road to the Egyptian border at Salloum before they get help to return to their home countries.
Consistent
In February, the government evacuated hundreds of UK citizens on specially chartered flights and HMS Cumberland.
The British embassy in Tripoli has been empty since staff were evacuated earlier in the year.
On Sunday, Mr Burt said: "Our advice to people in Tripoli has been consistent over a lengthy period of time, obviously to take all available opportunities to leave.
"Most of those who are still there have had reasons to stay embedded, many will have had relatives or relations, and have been content to stay in Tripoli."
British forces have been involved in a Nato mission to enforce a no-fly zone over Libya to protect civilians using "all necessary measures" short of a ground invasion since March.