Arab community of Edgware Road offers Libyans support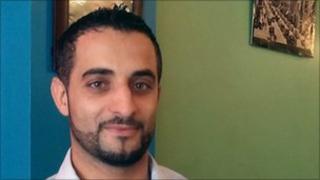 The heart of London's Arab community, Edgware Road, has witnessed many celebrations in the last year.
The Arab Spring has seen Egyptians and Tunisians take to the streets, jubilantly cheering the leadership changes in their respective countries.
And on Sunday evening it was the turn of the Libyans, with about 200 people out on the street celebrating rebels seizing control of much of Tripoli and putting a likely end to Col Gaddafi's 40-year rule.
The crowd was singing, making peace salutes and waving the new Libyan flag of the National Transitional Council.
But just a few hours later, Edgware Road presented a much calmer atmosphere.
There was little evidence of the Libyan party held only a few hours previously. In fact, there were few Libyans in sight.
Cafe workers of all nationalities were going about their day's business, chopping up vegetables and washing down outside eating areas, while grocers were putting out their fresh produce.
They all had a very relaxed appearance, but as soon as there was mention of what was happening in Libya, people's faces lit up and erupted into broad smiles.
Tunisian Chaouki Dridi, a restaurant manager, said he was very pleased when he woke up and turned the television on to see the news of the latest developments in the country next to his homeland.
He said there was a special bond between the countries as they spoke the same language, had the same dialect and shared numerous business links.
"We were expecting it - it was like finally, they made it," he said.
Tunisia went through its own uprising in January when protesters overthrew President Zine al-Abidine Ben Ali's government, and Mr Dridi offered advice to his country's neighbours.
"It's a very good thing. It's been 40 years.
"There'll be a new structure, new regime and politics. There's still a lot of threats and disorder but that won't last for long, maybe a couple of years. It'll settle down.
"In the near future, Libyans will discover new things like in Tunisia, we found treasure in the palace, things he took from the people, so there'll have things like that.
"I'm proud of course. Though Tunisia has a small population and is moderate, I feel proud about what happened and the people make me feel proud."
'Difficult to start with'
Shawqi Hammoudi, 39, from Iraq, also offered advice.
"It's good news for the country, I wish them all the best. It's very difficult to start with straight away, it feels something strange but it'll be ok in a few years," said Mr Hammoudi, the manager of mini-supermarket Farah.
"All dictators are dictators and we should stand by each other and stay united. That's the most important thing."
And 47-year-old Joseph Jebeily, a chef at Fatoush Express originally from Lebanon, said he was looking forward to the future.
"When we talk about democracy, freedom for people, it should have happened a long time ago.
"Everything has happened in one area; we're going to see a new generation in the Arab world who understand what the people need."
Over at the Libyan Embassy in Knightsbridge, several Libyans were reacting to the news.
One who was overjoyed was Anwar Alwamdy, a student from Tripoli, who has been studying English in London for two years.
"I'm very happy," he said. "We have freedom. I will be celebrating tonight."
Although he had not decided where he was going, he could head to Edgware Road where, as numerous people said, the celebrations were going to pick up from where they ended in the early hours of Monday.