Newspaper review: NI and Republic of Ireland stories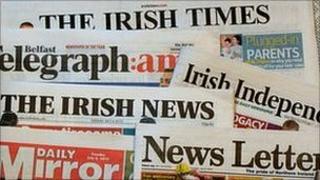 Journalist Keith Baker takes a look at what is making the headlines in Tuesday's newspapers.
Pictures on no fewer than six front pages show 15-year-old Shannon Graham arriving back in Northern Ireland from Turkey where her mother Marion and friend Kathy Dinsmore were murdered last week.
She's pictured in the Belfast Telegraph, Irish News, Mirror, Sun, News Letter and the Irish Independent.
"Home from hell", is the Sun's headline.
The Telegraph says she looked "bewildered". The paper managed to grab a word with her father at the airport. "It hasn't really hit her yet," he says, "her mum was her best friend."
The Mirror says she must be in "unimaginable pain".
According to the Irish Independent, she's unlikely to be called to give evidence when the man accused of the murders appears in court. And that could be several months away, it says.
Elsewhere, all eyes are on Libya.
And the big question - "Where's Gaddafi?" That's the main headline in The Times.
The Daily Mail supplies its own answer - "Hiding like a rat".
The Irish Times and the Guardian say the battle for Tripoli has turned into a "manhunt".
'Heroic myth'
The Times says his precise location has been a mystery for months.
US officials think he's still in Libya but they're not sure where, while rebels speculate that he's hiding in one of his bunkers in the capital.
There's a piece in the Mail by the historian Mark Almond. He says Gaddafi's left it a bit late to escape and anyway where would he go, since he's spent 42 years offending the neighbours.
The worst option, he says, would be for him to go down fighting: "To die, gun in hand, could plant the seeds of a heroic myth."
The papers also emphasise that the progress of the battle isn't exactly straightforward.
The Independent says yesterday's sense of jubilation subsided somewhat as Gaddafi forces carried out a series of ambushes. It writes of prolonged clashes, with both sides using heavy weapons.
And then there are the spoils of war.
The Daily Telegraph's reporter comes across a white pick-up stocked with treasure from the home of one of Gaddafi's sons.
Items such as a jewel-encrusted sword and a silver plated revolver, along with huge bottles of Davidoff and Armani aftershave.
One 16-year-old fighter wearing a general's hat says - "These are nice things".
Health and safety
Kate Winslet has been a heroine on the big screen and now she's one in real life.
Here's a headline you don't see every day of the week...
"Kate carries Branson's mum, 90, to safety in paradise isle inferno."
That's how the Daily Express puts it.
Several papers describe how Richard Branson's Caribbean home went up in flames when it was struck by lightning.
Kate Winslet and her children were among several VIP guests.
According to the tycoon, she swept 90-year-old Eve Branson into her arms and helped carry her out as the mansion crumbled around them.
Like a movie scene, Branson says, except no-one shouted cut.
Which brings us to health and safety. The papers always love stories about that subject, especially the cost.
The Express is up in arms about a council in Cornwall which is going to hire someone at a cost of £20,000 to make sure that the Olympic torch has a smooth passage through the area next year.
The paper says the council should be "flame-grilled" for spending money like this when staff are losing jobs.
And the Daily Telegraph tells us about a primary school in Oxfordshire where children have been playing with old milk bottle crates for the past 15 years. They've been the props for countless games, it says.
But the local dairy has now taken them away.
The firm says - "They're not toys and health and safety guidlines require that they should not be used as such".
"Outrageous", says one of the teachers.