England riots: 1,400 suspects have appeared in court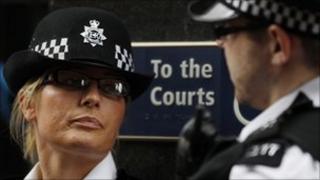 More than 1,400 people have appeared in court in connection with the riots that spread across England's towns and cities two weeks ago, new figures show.
The latest data from the Ministry of Justice show that, of these, 157 have been convicted, 327 bailed and almost 800 remanded in custody.
This rate of 62% being held in custody compares with the usual rate of 10% of those appearing before a magistrate.
During the riots, shops were looted, buildings burned and five people died.
The new figures come as the Metropolitan Police have been defending themselves against reports that officers were told to hold everyone arrested in custody and bail no-one.
The Guardian has published a leaked document, called Operation Withern: Prisoner Processing Strategy, which was circulated among Met officers investigating the disturbances at their height.
It suggested using certain phrases to help secure a charge, including: "A strategic decision has been made by the MPS [the Met] that, in all cases, an application will be made for remand in custody both at the police station, and later in court."
Another suggested line was that cautions and other means of judicial disposal were not considered appropriate in these cases.
The courts decide whether to grant bail, but the document suggests the strategy had been to ask for it to be refused in all riot cases resulting in charges in order to prevent further disorder.
It also appears to show police had been using their powers to charge suspects before gathering all the evidence because of the time required to examine CCTV footage.
The Met has denied guidance for officers suggested that everyone arrested should be held in custody or that cautions or other similar penalties were inappropriate.
A spokesman for the London force cited newly-released figures showing 623 people were bailed to return pending further inquiries, 17 were cautioned and 10 were given a youth reprimand, cannabis warning or fixed penalty notice.
'Unlawful policy'
Lawyers are, however, planning to challenge the Met's custody procedures in a judicial review.
Solicitor Edward Kirton-Darling, of Hodge, Jones and Allen, said: "Applying a blanket policy is unlawful as it fetters the discretion of the custody sergeant."
His client, a young unnamed mother, was refused bail despite having no previous convictions.
She was arrested for handling £2,500 worth of stolen goods during riots in south London.
The Met's lawyers have two weeks to respond to the solicitor's letter, the first step before judicial review proceedings can begin.