Britons aided in Libya exit bid by Hungarian Embassy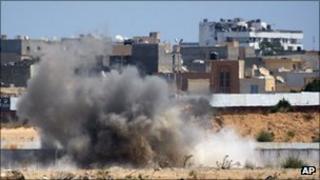 UK nationals trying to leave Libya are being aided by the Hungarian Embassy.
The Foreign Office said it had been contacted by "a few" Britons in Tripoli in the last few days, although it is not clear how many remain there.
"We have advised them to remain indoors and contact the Hungarian Embassy for details of departure options," said a spokesman.
Meanwhile, a Maltese ship due to carry UK and other nationals out has still not been able to complete its mission.
As fighting continued between rebels and forces loyal to embattled Libyan leader Col Muammar Gaddafi, a spokesman for the Foreign Office said: "A few British nationals in Tripoli have contacted us in recent days."
The spokesman said British Nationals had been advised to leave Libya since February and travel advice clearly stated they should not rely on further assisted evacuations.
British nationals have been referred to the Hungarian Embassy, as operations at the British Embassy in Tripoli have been suspended.
Maltese-registered cargo ship Triva 1 tried to enter the Port of Tripoli on Sunday morning, but was forced to retreat after its captain reported being fired at.
As many as nine Britons were thought to be among those who had decided to leave on the ship.
The vessel is now sitting some distance off Tripoli while its captain assesses the safety risks of trying to dock at the port.
Food supplies
There were no reports of anyone bring injured in the attack on Triva 1, or of damage to the boat, although a Nato warship helped remove fishing nets which had become tangled in its propellers.
Nato said the boat had declared it was also carrying food supplies. A journalist was also reported to be on board.
The prime minister of Malta, Lawrence Gonzi, who has held an emergency cabinet meeting after returning from holiday, said talks were being held with EU officials regarding the provision of a bigger ship to evacuate foreign nationals.
About 11 Maltese in Libya have asked for help.
Another boat sent to evacuate people from Tripoli by the International Organisation for Migration has also had problems docking because of the fighting.