Labour plans contract rule to help apprenticeship firms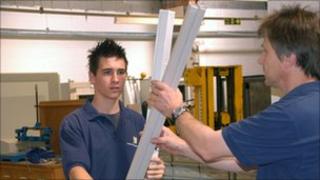 Any company looking to win work from the public sector should have an apprentice scheme in place first, Labour has said.
Shadow business secretary John Denham said the plan would increase the number of highly-skilled placements on offer to young workers.
But ministers said imposing new rules on companies was not the way forward.
The UK government spends £220bn a year buying goods and services from the private sector.
Under Labour's "jobs-for-contracts" scheme, any company wanting to win public sector contracts would have to prove it offered apprenticeships to out-of-work youngsters.
"At a time when record numbers of young people are out of work and facing a challenging future, the Tory-led government should be doing everything it can to support opportunities, helping young people to improve their skills and get good jobs," said Mr Denham.
"It could take immediate action by supporting the creation of thousands of apprenticeships in companies that provide services to government including construction projects."
Labour's proposal was announced a day after official figures suggested the number of Neets - 18 to 24-year-olds not in employment, education or training - had risen to more than 18% in England.
But the proposal was branded an "empty promise" by Skills Minister John Hayes, who said he would rather talk to employers to help them offer training, rather than burdening them with new regulation.
The UK government also said it was already funding a record 360,000 apprenticeships this year.
The Federation of Small Businesses said many of their members were already finding it tough to win business from the public sector.