Prison numbers reach record high in England and Wales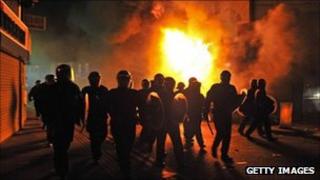 The prison population in England and Wales has hit another record high following the riots in England, figures from the Ministry of Justice show.
There are now 86,821 people locked up in jails, young offender institutions and immigration removal centres.
In the past three weeks the population has risen by almost 1,300 following the riots in England.
Prisons Minister Crispin Blunt has said there will be no long-term effect on inmate numbers.
Mr Blunt said the disturbances earlier this month were a "one-off" event and the justice system could cope in the short-term.
The government expects prison numbers to fall to about 83,000 in 2012.
Since the riots, the prison population has gone up by more than 1,000.
As of Tuesday, there were 797 suspects on remand, almost two-thirds of all those to have so far come before the courts.
The speed with which the prison population is rising following the riots appears to have slowed, with an increase of 167 this week compared with 723 last week.
There are currently about 1,517 spare places.
Prisons chiefs have devised contingency plans in case they run out of space.
These could involve bringing on new accommodation early, using extra places in the public and private estate, reopening mothballed accommodation, or triggering plans to accommodate prisoners in police cells.
'Exceptional event'
Speaking on Tuesday, Mr Blunt said: "We are completely confident that the prison system and justice system are going to be able to cope with what the police are producing for us."
He went on to describe the spate of riots as "an exceptional event".
"What we have to do is make sure there are prison places for those sent to prison by the courts and we will continue to do that regardless of how many people are sent to prison."
Mr Blunt's comments came as he promoted the Ministry of Justice's previously-announced plan to make more use of community-based sentences for some offenders.
Ministers have said they want to cut costs by reducing the population through the introduction of the more robust community sentences for some offenders and improvements in the rehabilitation of offenders.