Glenn Mulcaire reveals News of the World hacking names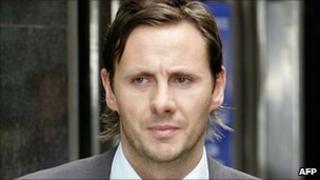 Private detective Glenn Mulcaire has revealed the names of News of the World staff who instructed him to carry out phone hacking, his solicitor has said.
The information was passed in a letter to comedian Steve Coogan's lawyers in accordance with a court order.
Mr Coogan is among a number of celebrities suing the NoW after it emerged his phone had been hacked.
News International said it had no comment. Mr Mulcaire was jailed in 2007 for hacking into phones of royal aides.
He was jailed for six months, while the News of the World's former royal editor Clive Goodman was jailed for four.
At the time, News International said that Goodman had acted alone and no other journalists were involved in hacking.
'Confidentiality issues'
Mulcaire was ordered to reveal who instructed him to access Mr Coogan's voicemails.
Mulcaire had applied for permission to appeal against the order, which was made in February, but this was denied and he was compelled to pass over the details by today.
His solicitor Sarah Webb, from Payne Hicks Beach, said she could not reveal who the NoW employees were because of "confidentiality issues".
Schillings, which is representing Mr Coogan, has agreed not to reveal the names yet, to give Payne Hicks Beach a chance to apply for a court order stopping their release.
The Met Police has arrested 14 people as part of their investigation, Operation Weeting, which is looking into illegal hacking of the mobile phone voicemails of public figures by the now-defunct News of the World (NoW) newspaper.