UK announces humanitarian aid for conflict-torn Libya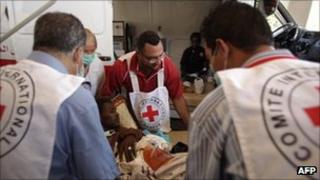 The UK is to provide £3m of urgent humanitarian support for those affected by the conflict in Libya, the government has announced.
Britain will provide medical assistance and food supplies via the International Committee of the Red Cross (ICRC).
It will also support efforts to reunite families separated during the uprising against Col Muammar Gaddafi's regime.
The international development secretary said new UK funding would help agencies "doing extraordinary work" in Libya.
The UK's support will provide surgical teams and medicines for up to 5,000 wounded and food and household essentials for almost 690,000 Libyans.
International Development Secretary Andrew Mitchell said many Libyans were in need of help and the situation in Libya's capital, Tripoli, was "incredibly difficult" for humanitarian agencies.
Critical areas
"But organisations such as the ICRC are doing extraordinary work in dangerous and difficult circumstances to get supplies and doctors through to those in need," he said.
"This new funding from our development budget will help them to continue their vital work in critical areas across Libya."
Britain is also seeking approval from the United Nations to release around £1bn (1.86 billion Libyan dinar) of frozen Libyan funds to the country's central bank.
British diplomats say the money would be used to pay salaries, and buy medicine and food.
Billions of pounds of Libyan assets - including £12bn in London alone - have been frozen in recent months to prevent them being used by the Gaddafi regime. The US won approval to release $1.5bn (£920m) last week.
Rebel fighters have been fighting Col Gaddafi's forces since he launched a crackdown in February to try to quash an uprising against his 42-year rule.
Col Gaddafi has been indicted for crimes against humanity by the International Criminal Court over his forces' suppression of the initial uprising. His whereabouts are unknown.
Rebels say they are now in almost complete control of Tripoli, with just a few pockets of resistance from forces loyal to Col Gaddafi.
Military targets destroyed
There has been some fighting, mainly in and around the international airport, but the city centre is mostly quiet.
British forces have continued to strike Gaddafi "elements... which still pose a threat to the Libyan people," a military spokesman said.
Maj Gen Nick Pope, spokesman for the chief of the defence staff, said RAF aircraft attacked a brigade headquarters and helicopter facility on the southern outskirts of Tripoli, a few miles north-east of the international airport, destroying "a number of military targets".
An RAF Tornado jet also destroyed a rocket launcher to the west of the oil port of Ras Lanuf, where rebels have met stiff resistance.
They are preparing to attack Sirte, Col Gaddafi's birthplace and the town regarded as his last major stronghold.