Newspaper review: Papers move from Libya to the weather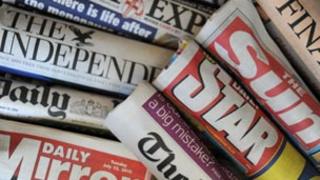 Most of the papers relegate their coverage of Libya to the inside pages.
But the Daily Telegraph leads on its naming of a junior diplomat suspected of shooting dead PC Yvonne Fletcher outside Libya's London embassy in 1984.
The Independent reports that rebel fighters in Tripoli have been targeting black African mercenaries hired by Col Gaddafi - lynching them in many cases.
The Times turns its attention to the London mansion of Col Gaddafi's son, Saif al-Islam, saying it is worth £11m.
Weekend sun
The Telegraph says the best of British pluck will be needed to overcome bank holiday weekend forecasts of showers and cool temperatures.
It advises day-trippers heading to the coast that a rug and a windbreak will prove more useful than swimming shorts.
The Sun says people shouldn't "bank" on any weekend sun.
A headline in the Daily Express asks: "A little bank holiday sun? Don't be daft". The Daily Star writes off the weekend as a "bank brollyday".
Direct challenge
Several papers believe the deputy prime minister's staunch defence of the Human Rights Act - in an interview on Friday - requires David Cameron's attention.
For the Daily Mail, Nick Clegg's remarks are the most direct challenge yet to the prime minister.
The Express says Mr Cameron should "call Mr Clegg's bluff" by making clear he's willing to go to the country on the issue if necessary.
The Sun urges the prime minister to ignore Mr Clegg.
'Storm of a lifetime'
There is widespread coverage of the approach of Hurricane Irene towards the east coast of America.
The Times and Guardian describe it as the storm of a lifetime. The Guardian says storm surges were the primary concern of meteorologists on Friday.
The Times says it could be New York's "Katrina moment" - a reference to the hurricane that devastated New Orleans.
With residents being told to leave low-lying areas, the Mail has the stark headline, "Get out of New York".