Labour seeks support on tightening media takeover rules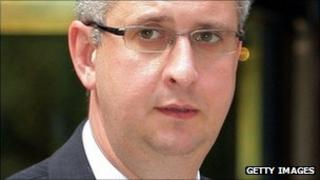 Labour is seeking cross-party support to tighten rules on media takeovers in the wake of the controversy over News Corporation's bid for BSkyB.
Shadow culture secretary Ivan Lewis wants a wider public interest test and greater powers for the government to intervene in the process.
The News Corp bid for BSkyB was withdrawn amid claims of phone-hacking at its newspaper News of the World.
A Tory source said the government was already committed to reform.
Public interest test
BBC political correspondent Carole Walker says News Corp's bid to gain full control of the digital broadcaster was controversial even before the phone hacking row scuppered the deal.
The main question for regulators was whether the takeover would leave sufficient plurality in the media market.
Our correspondent says Labour wants a much wider public interest test to be applied from the start of a media takeover process.
The party is calling for the culture secretary to be given more power to intervene and order regulators to consider whether a bidder is a fit and proper person to run a media company.
The Conservative source said the issue would be considered as part of Lord Leveson's independent inquiry into phone hacking and media practices.
Media plurality
Lord Leveson will make recommendations on media plurality, regulation and cross-media ownership by July 2012.
News Corporation has closed the News of the World but still owns the Sun, the Times, the Sunday Times and 39% of BSkyB.
After the News of the World was shut down, Labour leader Ed Miliband called for new media ownership rules to limit what he described in the Observer as News Corp boss Rupert Murdoch's "dangerous" and "unhealthy" concentration of power.
Deputy Prime Minister Nick Clegg backed Mr Miliband's call. He told the BBC there was a need to "look again in the round at the plurality rules to make sure there is proper plurality in the British press".
Business Secretary Vince Cable has also said there should be "clear" rules on how powerful media groups can be.
Mr Cable was responsible for media ownership rules until he was recorded saying he had "declared war" on Rupert Murdoch in December.