British charity workers assess Tripoli danger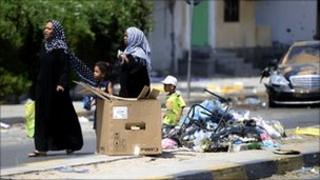 British charity workers are assessing the danger in Tripoli, Libya, and hope to enter the city in the coming days, Save the Children has said.
The charity said the security situation was currently too perilous for staff.
But it said a team based on the Tunisian border was preparing to visit the city for a "needs assessment" as soon as their safety could be ensured.
It comes as Col Gaddafi's spokesman said the fugitive Libyan leader was ready to begin talks to transfer power.
Moussa Ibrahim reportedly said the toppled leader's son Saadi would lead the talks. The rebels say they will not negotiate until he surrenders.
Meanwhile, desperately-needed fuel and water supplies are expected to arrive in the Libyan capital later.
Save the Children's Jenny Humphreys, 35, who is working in Benghazi, said the charity would make a call about entering Tripoli in the next few days, and it was "a security-based decision".
"We're very keen to get in there as soon as possible because we're keen to start reaching out to children and their families there," she said.
'Anticipate needs'
On arrival, the charity will consider the immediate needs of children and their families, including health requirements and child protection, and taking account of their emotional well-being and physical protection, she said.
They also plan to look at the education system and establish what the state of Tripoli's schools.
It has not yet been decided how many workers will be deployed to Tripoli, but the charity is looking at flying people out from London and possibly transferring members of the Benghazi team.
Ms Humphreys, who has been in Libya since early May, added: "All we're able to do at the moment is try and anticipate what the needs might be through the media reports that we're getting."
Meanwhile, Medecins Sans Frontieres (MSF) has started working in medical facilities in Triopli, donating lifesaving medications and supplies, and transferring patients in need of urgent medical assistance.
The charity said it had 14 international staff in the city - and scenes in some hospitals had been "shocking".
Jonathan Whittall, MSF emergency coordinator, said: "When we arrived at Abu Salim (hospital), we faced quite a shocking scene: dozens of dead bodies were lying in the hospital's compound."
The charity has been supporting hospitals across the capital, and it said it was currently trying to send medical supplies to Zwara hospital, west of Tripoli, where fighting is ongoing.
Three tons of dressing materials and much needed surgical material, including external fixators, have been sent from Tunisia into Libya, it said.
In addition, MSF will send more than ten tons of medical materials to Tripoli from Malta by boat. Three more tons of medical supplies, drugs, and equipment have also been sent from MSF's project in Misrata.
Urgent support
On Saturday, the UK government announced that it was to provide £3m of urgent humanitarian support for those affected by the conflict in Libya.
The UK's support will provide surgical teams and medicines for up to 5,000 wounded and food and household essentials for almost 690,000 Libyans via the International Committee of the Red Cross (ICRC).
It will also support efforts to reunite families separated during the uprising against Col Gaddafi's regime.
A spokeswoman for the British Red Cross said it was contributing money to the efforts of the Libyan Red Crescent and the ICRC, who have been working in Tripoli since February.
Britain is also seeking approval from the United Nations to release around £1bn (1.86 billion Libyan dinar) of frozen Libyan funds to the country's central bank.
Billions of pounds of Libyan assets - including £12bn in London alone - have been frozen in recent months to prevent them being used by the Gaddafi regime. The US won approval to release $1.5bn (£920m) last week.
Rebel fighters have been fighting Col Gaddafi's forces since he launched a crackdown in February to try to quash an uprising against his 42-year rule.