Tropical Storm Irene: Britons left stranded in US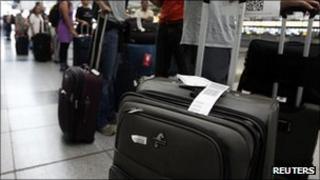 Some British travellers remain stranded in the US after Hurricane Irene battered the east coast of the country.
The devastating weather system, which has brought fierce winds and rain and claimed at least 11 lives, has now been downgraded to a tropical storm.
But Britons could face further travel delays, with the risk of flood waters making more cancellations possible.
British Airways cancelled all flights between London and New York on Sunday, and is assessing Monday's situation.
Damage extent
The New York Port Authority said air travel would remain suspended on Sunday and would not restart until Monday afternoon at the earliest.
A BA spokesman told the BBC News website: "We are still waiting to hear what we are going to operate tomorrow [Monday].
"We are speaking to the authorities in the US to find out exactly if there's any damage to these airports and whether we can operate.
"We will try to have as many flights as we can tomorrow but we are still waiting to hear what we can and can't operate."
BA said passengers who were due to fly up until 30 August were being offered the chance to change their bookings to a later date. Those whose flights are cancelled can claim a full refund.
The airline said in a statement on its website: "As Hurricane Irene moves towards the east coast of the USA we have cancelled flights to and from a number of US cities.
"Please check the status of your flight before leaving for the airport."
BA cancelled flights to the Bahamas earlier this week as a result of the hurricane.
Phones cut
Virgin Atlantic said it was possible that New York flights could resume on Monday.
The airline said on its website: "Tropical Storm Irene continues its path along the NE Coast of the US and is now heading towards Boston.
"It has passed New York and the airport authorities are currently assessing any damage that may have been caused.
"We cannot confirm at this point when the New York airports will reopen however we are very much hoping we will be able to recommence our flights to and from New York on Monday 29 August."
The airline urged passengers to check flight status online, and not to travel to the airport if the service has been cancelled.
The company said the storm had brought down power lines in many areas, cutting off its Connecticut office by phone. It was attempting to bring in temporary generators.
Virgin Atlantic cancelled flights to and from New York as well as some Boston services over the weekend.
Travel advice
Two US airlines, United and Continental, said they were assessing the impact of Hurricane Irene at their New York airports and support facilities.
The carriers said they anticipated resuming services no earlier than midday local time (17:00 BST) on Monday, "depending on facility conditions and access".
The UK Foreign Office said Hurricane Irene had been downgraded to a tropical storm but continued to affect a large area of the east coast of the USA.
It advised British nationals caught up in the storm to follow the advice of the local authorities, and leave the area if advised.
Several major airports were affected by closures including JFK, La Guardia and Philadelphia International, it added.
The Foreign Office said the overall level of travel advice to the US had not changed and there were no restrictions in place.
Travellers could monitor the progress of the hurricane on the US National Hurricane Center website, the Met Office's StormTracker, and local and international weather reports, it said.
The Association of British Travel Agents (Abta) said up to 10,000 British holidaymakers could currently be in New York.
Flood defences
The city was the single most popular long-haul destination in the world for Britons, the organisation said.
New York's JFK and Newark airports were both closed and flights in Philadelphia and Boston were disrupted.
More than 9,000 flights in and out of New York were cancelled, as the city remained eerily quiet.
New York's public transport system, which was shut down for the first time in history, remained closed, and Broadway shows and baseball games were called off.