Newspaper review: Libya still dominates papers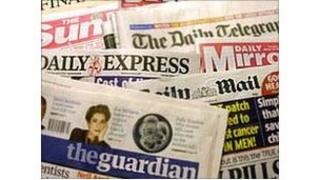 Libya still dominates the broadsheets on Tuesday, but the tabloids are turning to other stories.
The Times has an interview with Libya's new justice minister in which he reveals how the National Transitional Council plans to deal with Colonel Gaddafi if he is caught.
Mohammed al-Alagi says the former leader will be given a public trial but executed in private by firing squad if convicted of crimes against humanity.
According to the Independent, the medicine needed by the convicted Lockerbie bomber, Abdelbaset Ali al-Megrahi, who is dying of cancer, was plundered by looters who ransacked his Tripoli home.
It says his desperate family are begging the Scottish authorities to supply the drugs to alleviate his pain and distress in his final days.
Quango bosses
The Morning Star also picks up on the story in an editorial headlined "Persecuting a dying man". It says that Megrahi is "almost certainly innocent" and accuses much of the media of "deliberately suppressing" this aspect of the story.
The Daily Telegraph features news of Col Gaddafi's wife and three of his children fleeing to Algeria, as do many of the other papers.
But its main story is about Britain's highest paid quango bosses almost doubling their salaries with six-figure bonuses, special allowances and pension windfalls.
"They're earning as much as £700,000 a year," the paper says, "despite the coalition's promises to have a 'bonfire of the quangos' and freeze public sector pay." The Cabinet Office tells the paper there is "still more to do".
'Misplaced priorities'
In the Daily Mail there is a claim that the NHS pays its spin doctors more than it pays cancer experts.
In what the paper calls "the most serious case of misplaced priorities", the PR director at Yorkshire and the Humber Strategic Health Authority was paid well over £128,000 last year - £1,000 more than the director of patient care, and £22,000 more than the national cancer screening director.
The Daily Mirror splashes on a story about EastEnders star Jessie Wallace, who it says jilted her fiance on their wedding day.
A Chinese tycoon's plan to spend $100m buying 300 sq km of wilderness in Iceland for a tourism project is raising security concerns, according to the Financial Times.
Opponents fear China really wants a strategic foothold in the region but people close to him insist, the paper says, that his interest is motivated by his love of nature rather than geopolitics.
Chocolate benefits
"We should cocoa," says the Guardian. "Whether its milk, dark or white, it appears better to eat chocolate than avoid it."
A large study, presented to the European Society of Cardiology in Paris, found chocolate-eaters suffered far fewer heart attacks and strokes.
Experts don't quite know why; it could be the antioxidant flavenoids, apparently, or just that people find it relaxing.
The Sun claims more than 1,200 pupils aged seven and under have been permanently excluded from school in the past five years.
Shockingly, it says, 80 of them were aged just four. A further 53,000 were suspended but allowed back, it says.
iPads for binmen
The Sun is also preoccupied by the story of a council forced to find £18m of savings which it says has been "rubbished" over plans to spend £9,000 on iPads for its binmen.
The Daily Telegraph highlights the case of a four-year-old from Hull in East Yorkshire, whose parents have been threatened with a noise abatement notice and possible £5,000 fine unless he plays more quietly in the garden.
Alfie Lansdell's mother says: "It's the summer holidays for goodness sake, what am I supposed to do, gag him?"
The broadcaster and founder of Childline, Esther Rantzen, tells the Times she suffered a traumatic experience as a schoolgirl when a male relative behaved inappropriately.
She says the incident gave her nightmares, and recalls the difficulty she faced trying to get adults to take her protests seriously.