Libyan cash in UK banks unfrozen as UN lifts sanction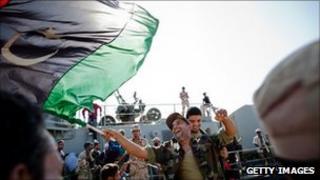 The United Nations has agreed to unfreeze 1.86bn Libyan dinars - worth about £950m - being held in UK banks.
Foreign Secretary William Hague said this represented another "major step forward" in getting necessary assistance to the Libyan people.
He added the funds, which will be released to the Central Bank of Libya, would help to address urgent humanitarian needs.
The funds were frozen in February when the uprising in Libya first started.
Mr Hague said: "These banknotes, which were frozen in the UK under UN sanctions, will help address urgent humanitarian needs, instil confidence in the banking sector, pay salaries of key public sector workers and free up liquidity in the economy."
The BBC's United Nations correspondent Barbara Plett said there was a sense that the National Transition Council needed the money immediately and that countries were not willing to wait for the United Nations to pass another resolution.
Germany has also asked to release about one billion euros (£900m) in seized assets while France wants to unfreeze about five billion euros (£4.4bn) to help buy humanitarian aid and keep essential services going in Libya.
Last week, the UN agreed to the US's request to unblock $1.5bn (£1bn) in frozen Libyan assets.
In March, a ship carrying Libyan currency worth £100m (200m Libyan dinars) was impounded.
The Home Office said the ship was intercepted by UK authorities after heading back to British waters following an aborted attempt to dock at Tripoli.
The money, which was printed in north-east England, was impounded at Harwich.