Coach concessionary fares: Government defends axeing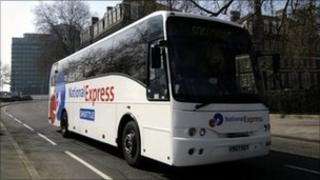 Coach firms have had enough time to prepare for cuts to long-distance concessionary fares, Transport Minister Norman Baker has said.
Such fares for those over 60, and for those with disabilities, are to be scrapped in England on 1 November.
Coach operators say they could have offered the government the savings they wanted without penalising people who depend on the long-distance services.
But Mr Baker said companies had been given 12 months' notice of the plans.
He added: "We also made the calculation that it was likely that there'd be a commercial case for National Express and others to put in place their own arrangements to make up for that."
Currently, the Bus Service Operators' Grant (BSOG) allows some operators of coaches and local buses, as well as community transport schemes, to reclaim some of their fuel costs. 
But Mr Baker has said the grant for long-distance coach travel concessions would be cut so "the limited funds the taxpayer can afford" could be used to support schemes such as free concessionary travel on local bus services in England.
This statutory concession is not expected to be affected by these cuts.
Budget pressures
Anyone aged 60 or over and many disabled people who live in Scotland are able to travel free on scheduled long-distance coach services in Scotland.
Concessions are also available for some long-distance services in Wales, and pensioners are eligible for free travel on public transport across the whole of Ireland.
Mr Baker said: "The pressing need to tackle the deficit and avoid the kind of crisis that has hit other European countries has required us to take a number of difficult decisions, including this one.
"For many older and disabled people a free local bus service can be a lifeline, providing access to employment, healthcare and other essential services. That is why we have given priority to the local concession scheme and retained it despite the deficit crisis.
"That has meant that some other areas of transport spending, such as support for long-distance coach travel, have had to be cut."
'Everyday life hit'
John Major, of the Confederation of Passenger Transport UK, which represents the UK's bus, coach and light rail industry, said it had "long anticipated that the government's austerity measures were going to hit hard on all aspects of everyday life".
He added: "As the Transport Select Committee highlighted recently in their report on the effects of government spending on bus and coach services, the industry is having to adjust to the greatest financial challenge it has faced in generations.
"Operators work in very close partnership with local authorities up and down the country in an effort to deliver the best services possible for our customers.
"We support the call from the committee to continue this work and the need for all parties to adopt an ever more flexible approach in order to minimise the effects any cuts will have on our customers and the services we provide."
Michelle Mitchell, charity director at Age UK, said removing concessionary coach fares would have a "devastating effect on many older people" who will no longer be able to afford to visit their friends and families.
She added: "This cut will do little to address the budget deficit and could mean that many more grandparents will struggle to afford the journey to see their grandchildren this Christmas. With rising rail prices and cuts to local bus services, exactly where are the options for affordable travel?
"Age UK is calling on the government to show some compassion and delay plans to cut the concession to allow enough time to consult properly with concession pass holders and operators."