Eight Defra vet labs may close, Prospect union says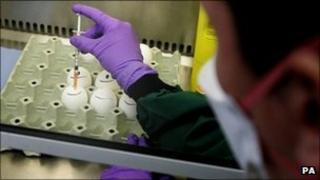 The government is considering proposals to close laboratories at eight Defra veterinary centres, a union says.
Prospect union said the Animal Health and Veterinary Laboratories Agency (AHVLA) had submitted plans for the closures to the environment secretary.
It said AHVLA wanted to close labs at Langford, Aberystwyth, Truro, Thirsk, Wincester, Luddington, Carmarthen and Preston by April 2013, cutting 90 jobs.
AHVLA said it was "undertaking a review of its delivery network".
"We are discussing the proposals internally but no decisions have yet been made. Pending final agreement, no changes or announcements will be made," a spokeswoman said.
AHVLA says its role is "to help safeguard animal health and welfare and public health, protect the economy and enhance food security through research, surveillance and inspection".
'£2.4m savings'
Prospect said that the proposed closures of AHVLA labs were put before Environment Secretary Catherine Spelman on Thursday.
It said Defra claimed the closures would save £2.4m a year. But Prospect said any savings would be outweighed by the potential cost of failing to quickly detect diseases such as foot and mouth.
National secretary Geraldine O'Connell said the proposals would cut a third of the laboratory staff employed in the AHVLA's regional network.
But she said AHVLA's review accepted that demand for laboratory services would not change and the remaining laboratories would have to pick up the extra work.
"AHVLA acknowledges that there may not be the capacity for those labs to absorb the extra workload, and that outsourcing some functions is inevitable," she said.
Ms O'Connell said the plans would see vets and the livestock industry having "to wait for diagnoses while samples are despatched around the country to the few remaining labs".
Six regional labs would remain in Penrith, Shrewsbury, Starcross, Bury St Edmonds, Sutton Bonington and Newcastle upon Tyne and two central labs would remain in Weybridge and Lasswade, Prospect said.