Anonymous and Lulzsec: Two men held in hacking inquiry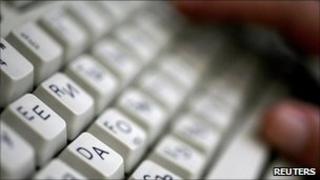 Two men have been arrested as part of an inquiry into hacking groups Anonymous and Lulzsec, police said.
The men, aged 24 and 20, were arrested in South Yorkshire and Wiltshire on suspicion of conspiring to commit offences under the Computer Misuse Act.
Separately two men have been charged over online attacks by Anonymous.
Christopher Weatherhead, 20, from Northampton, and Ashley Rhodes, 26, from Kennington, south London, were charged with hacking offences.
Both high-profile hacker groups are known for stealing and releasing private information from websites.
Intelligence agencies
The arrests in south Yorkshire and Wiltshire are in connection with suspected offences under the cover of online identity "Kayla", Scotland Yard said.
A spokesman said the men were arrested separately at addresses in Mexborough, near Doncaster, and Warminster.
He said the Doncaster address was searched by police and computer equipment was removed for examination.
The men are being held at police stations in South Yorkshire and central London, the spokesman said.
A statement from the Metropolitan Police said the arrests were linked to an ongoing international investigation into a number of cyber-attacks on international businesses and intelligence agencies.
Lulzsec has previously said it carried out attempted hacks made on the UK's Serious Organised Crime Agency (Soca), the US Senate, the CIA and the Sun newspaper.
In a separate but similar investigation into computer hacking, Mr Weatherhead and Mr Rhodes were charged with conspiracy to carry out an unauthorised act in relation to a computer.
Police had already charged a 17-year-old from Chester and student Peter David Gibson, 22, from Hartlepool, in relation to the same offences.
All four will appear on bail at City of Westminster Magistrates' Court on 7 September.
Asperger's syndrome
On Tuesday, the case of Jake Davis, 18, and Ryan Cleary, 19, who are accused of hacking into websites including that of Soca, was heard at Southwark Crown Court.
Mr Davis, from the Shetland Islands, faces fives charges under the Criminal Law and Computer Misuse Acts.
Mr Cleary, from Wickford, Essex, who has been diagnosed with Asperger's syndrome since he was arrested in June, also faces five charges.
Both are due to appear at the court for a plea and case management on 27 January.