Eric Pickles plays down planning change fears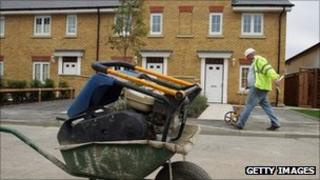 Communities Secretary Eric Pickles and ministers have played down fears about planning changes - amid accusations they amount to a "charter for sprawl".
Labour MPs accused the government of trying to "steamroll through" plans to streamline planning laws in England.
Conservation groups say the plans could cause "irreversible damage".
Minister Greg Clark told MPs the government would "preserve the character of Middle England" - but said the next generation also needed homes.
Mr Pickles faced MPs' questions after he and Chancellor George Osborne said they were "determined" to press ahead with plans in a joint article in the Financial Times saying reform was "key to our economic recovery".
Default answer
The Draft National Planning Policy Framework, published in July, is meant to streamline more than 1,000 pages of policy to just 52.
Among its "core principles" it says that those making decisions about planning applications "should assume that the default answer to development proposals is 'yes' except where this would compromise the key sustainable development principles set out".
Mr Osborne and Mr Pickles said sticking with the "complicated" current system "puts at risk young people's future prosperity and quality of life" and indicated they were not planning a U-turn on proposals: "No-one should underestimate our determination to win this battle."
In the Commons, Mr Pickles and his ministers were asked about the controversial plans by a series of MPs.
Labour MP and historian Tristram Hunt mocked minister Bob Neill who reportedly described opposition to the plans as a "carefully choreographed smear campaign by left-wingers based within the national headquarters of pressure groups".
Instead Mr Hunt criticised them as a "charter for sprawl" and suggested they were proof "that you can't trust the Conservatives with the British countryside".
'Steamroll through'
Planning minister Greg Clark told him the Conservatives were also "passionate defenders" of the countryside, adding: "We are determined that we shall preserve the character of Middle England, but young England needs a roof over its head too."
Shadow Communities Secretary Caroline Flint said there was concern across the country that the government was trying to "steamroll through" its planning changes. She accused the government of trying to "bypass Parliament" by publishing the draft framework during the summer recess. Mr Clark said that was "total nonsense" and accused her of failing to say whether she supported the plans.
Ms Flint asked him to extend the consultation period on the draft framework and hold a Commons debate and vote on it "so that Parliament and the country have the chance to debate these reforms properly".
Mr Clark said he had already committed to a debate on the issue and the consultation arrangements had been "extensive" and the government wanted "the fullest possible debate on this".
Labour MP Toby Perkins picked up on a comment by Mr Clark that there was a "crisis of housing and growth in this country that needs to be addressed by reforming the planning system" and asked what it said about government policies. The minister said he was referring the crisis "bequeathed to us by the last Labour government".
Asked by a Conservative MP if he would retain all current green belt protection, Mr Pickles told MPs: "The green belt is protected under this coalition government - unlike the previous government which promised to build on it."
But Shaun Spiers, chief executive of the Campaign to Protect Rural England, said: "The Treasury's ill-informed intervention in the planning debate reinforces the sense that the government's planning reforms are more about boosting short-term growth figures than about truly sustainable development."
He said it appeared Mr Osborne and Mr Pickles were "unwilling to listen or to compromise" on the issue and said the proposals threatened to cause "irreversible damage to both our towns and countryside".
On Saturday, planning minister Greg Clark said he had agreed to talk to opponents of the proposals to address "particular aspects" which were unclear.