Newspaper review: UK-Libya intelligence links examined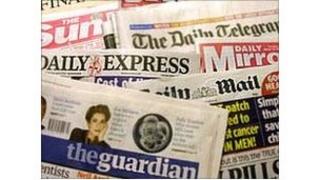 The discovery of a huge cache of secret documents in an abandoned building in Tripoli, Libya, is widely reported.
The Guardian says they indicate MI6 enjoyed a far closer working relationship with Colonel Gaddafi's regime than has been publicly known than has been publicly known.
The Daily Mail points out the authenticity of the documents has not been officially confirmed.
But it says they reveal: "Labour's sickening love-in with the Mad Dogthat helped prop up his evil regime".
Murdoch godfather
The Times reports the Crown Prosecution Service is choosing not to take any action in cases of assisted suicide.
Since guidelines were issued last year, at least 30 people suspected of helping a friend or relative to take their own life have been referred to the CPS, but none has been prosecuted, it says.
Meanwhile the Daily Telegraph says it has emerged Tony Blair is godfather to one of Rupert Murdoch's young children.
It was disclosed in an interview with Mrs Murdoch in Vogue magazine, it says.
9/11 remembered
The Independent thinks MPs returning to Westminster on Monday will have survival at the top of their minds.
The Boundary Commission's initial proposals for scrapping 50 parliamentary seats are due to be published next week, it reports.
Meanwhile most papers mark the start of a week of reflection for the 10th anniversary of the 9/11 attacks.
The Daily Mirror interviews a British man who managed to escape from the 91st floor of the North Tower.
Birthday job
Finally, the Mail reports research findings that suggest the month you are born in makes you statistically more likely to follow a certain profession.
According to the study, a high proportion of GPs and debt collectors are born in January; with artists and traffic wardens likely to have their birthdays in February.
Chief executives or Nobel Prize winners were probably born in June.
And December produces an above average number of dentists, it discovers.