Newspaper review: Papers captivated by Gaddafi mystery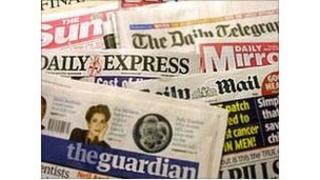 The papers are captivated by the mystery of Col Gaddafi's whereabouts.
The Guardian looks at the tantalising clues of a possible escape route for the deposed Libyan leader.
The Independent says a convoy of Gaddafi loyalists are "fleeing Libya in a cloud of dust and rumours", while the Financial Times says Gaddafi himself was not on the convoy.
But Martin Fletcher writing in the Times says hard facts are a "constantly receding mirage".
The papers agree that the latest twist in the phone-hacking row has thrown the spotlight back on to James Murdoch, News Corporation's chief executive.
The Telegraph says evidence from two former executives at the paper to the Culture, Media and Sport Select Committee amounted to "15 devastating minutes" for Mr Murdoch.
The Guardian says he is now likely to be recalled by the committee while the Independent says Mr Murdoch's status as heir apparent to his father's media empire is now in the committee's hands.
The Sun reacts to George Osborne's claim that the UK will "tough out" the financial crisis despite some economists predicting a "double dip" world recession.
It says the chancellor's plan is the right one but needs "rapid tweaking".
Meanwhile the Times reports that the outgoing chairman of Lloyd's has used his valedictory speech to say banks should lead the way to economic growth.
Politicians should embrace the profit ability of the sector said Lord Levene.
The Mirror says a "revolutionary" iPad memory test which records patients' ability to recognise symbols could delay the onset of Alzheimer's.
Fiona Phillips, whose mother had the condition, said it was a "step in the right direction but we need a cure".
Meanwhile, the Daily Mail reports that pregnant women who take painkillers such as ibuprofen could "double the risk of a miscarriage".
It says a study found women who took the drug were 2.4 times more at risk.