Bomb killed Sgt Andrew Jones and Trooper Andrew Howarth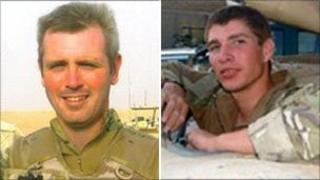 A bomb blew an armoured vehicle into the air killing two soldiers on patrol in Afghanistan, an inquest has heard.
Sgt Andrew Jones, 35, of Newport, south Wales, and Trooper Andrew Howarth, 20, from Wimborne, Dorset, were killed on 18 September last year.
Royal Engineer Sgt Jones commanded the vehicle, which was driven by Trooper Howarth of The Queen's Royal Lancers.
Wiltshire and Swindon coroner David Ridley recorded verdicts that both were unlawfully killed on active service.
The incident happened near Lashkar Gah, Helmand Province.
Sgt Jones, who was attached to The Queen's Royal Lancers, was leading four men in a reinforced Jackal II vehicle when a massive blast flipped the six-tonne vehicle over, the inquest in Trowbridge, Wiltshire, heard.
Capt Jonny Clayton, who was in overall command of the patrol, told the hearing that his troop was on patrol in two Jackals because there was an election in Afghanistan.
Capt Clayton said the insurgent threat in the area had been low since the unit had arrived in April 2010 with only some incidents of small arms fire and two improvised explosive devices (IED).
The vehicles, returning back to base, were crossing a dried-up canal bed when the pressure of the vehicle activated a 20-25kg IED, probably made from non-metallic materials, the inquest was told.
Capt Clayton had assessed the crossing as a vulnerable spot and sent out Trooper Michael Wilkes with a metal detector to check the crossing tracks for IEDs, but nothing was found.
"He could not find anything in the ground and he was there for 20 or 30 minutes. The ground was hard. I was 100% about the crossing," Capt Clayton said.
The first Jackal, with the officer onboard, safely crossed the tracks and the second, with Sgt Jones and Trooper Howarth inside, followed.
"We had moved on and were looking ahead, then the next thing we heard was an explosion and everyone went to help," Capt Clayton said.
Evacuated
He got back to the blown-up vehicle, which had been flipped into the opposite direction, and was on its side.
The inquest heard that Trooper Howarth was trapped underneath it and dead from the blast.
Sgt Jones, a married father-of-three, was thrown from the vehicle severely injured and was evacuated but died later, the hearing was told.
Two others on the Jackal survived.