Newspaper review: 50p tax rate divides papers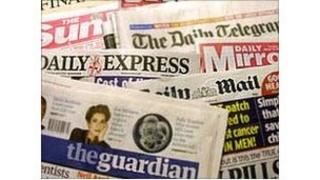 The papers are divided by a call from 20 leading economists to scrap the 50p top rate of tax.
The Daily Mirror says that to even consider axing it would make a mockery of the government's claim that "we're all in this together".
The Times believes there are good reasons to scrap the tax, and the Daily Telegraph agrees, saying it punishes entrepreneurs in the name of fairness.
The Independent prefers a so-called mansion tax to target unearned wealth.
'Shoot-to-kill' policy
The day before the funeral of Mark Duggan whose shooting by police sparked the Tottenham riot, the Times says the officer who killed him is to return to firearms duties.
It quotes sources as saying the move is a sign that the shooting investigation is moving towards the conclusion that no officer did anything wrong.
Meanwhile, Mark Duggan's brother Shaun Hall tells the Guardian that the family believes police were operating a shoot-to-kill policy.
Government intervention
The Guardian also reports that courts could temporarily remove benefits from convicted criminals as part of measures in response to last month's riots.
It says it would mean the government would not have to intervene directly in the criminal justice system.
The Telegraph says a senior government aide has admitted he has warned councils that if they cannot deal with their area's needs, then property developers could come in and build where they like.
Ferocious storm
The Express says councils should focus on removing children from the "clutches of evil" instead of expecting potential fosterers to meet "unrealistic criteria".
It comes as a couple were rejected as foster parents because the husband admitted smoking two cigars in a year.
The Mail recounts a ferry passenger's survival after she fell into the North Sea during a ferocious storm at night.
The Sun says 23-year-old Jeni Anderson's chances of being found were comparable to a needle in a haystack.