UK paedophile Michael Leach jailed in Cambodia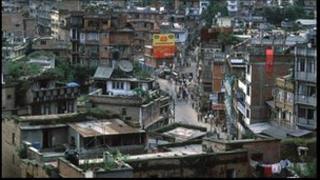 A British tourist has been jailed for 12 years in Cambodia for sex attacks on children as young as nine.
Michael Leach, 51, from London, abused three children in Phnom Penh and was ordered to pay 12 million riel (£1,880) to one of his victims.
The UK's Child Exploitation and Online Protection (Ceop) centre welcomed the conviction by Cambodian police.
Leach, a former adviser to the UK government on telecommunications, will be deported on his release.
Five Cambodians, including the mothers of two of the victims and a guesthouse owner, also received sentences for acting as accomplices in child prostitution.
'Tip of iceberg'
A Ceop spokesman said: "We welcome this conviction and the response of the Cambodian authorities in bringing Michael Leach to justice.
"While not directly involved in this particular prosecution, Ceop continues to be active working with governments, law enforcement and NGOs in the South East Asian region to safeguard children from sexual abuse and hold offenders to account for their crimes."
But David Thomson, of World Vision, the charity which is now caring for Leach's victims, said it wanted the co-operation between the UK and Cambodia extended to all paedophile "hotspots".
"Of course it is great that they have been able to work together for a successful outcome: but this is just the tip of the iceberg," he said.
He said that in one project alone in Cambodia in 2009, the charity had referred 53 abused girls to courts.
Christine Beddoe, director of ECPAT UK, the anti-child exploitation charity, congratulated the Cambodian authorities on the conviction.
But she added: "Much more needs to be done on this case and others like it to identify how the UK could have prevented the abuse taking place.
"A thorough case review should take place looking at what the UK authorities knew about Leach's activities before he was arrested by the Cambodian police."
Leach does not automatically go on the UK Sex Offender Register, which ECPAT UK said was "a major weakness" in the protection of children.
Leach worked as a telecommunications adviser for both the Department of Trade and Industry and communications watchdog Ofcom.
Ofcom confirmed Leach worked for the regulator for three years until 2008.
"It was a very junior role advising on radio spectrum matters," a spokeswoman said.