London 2012: Police warn of fake Paralympics tickets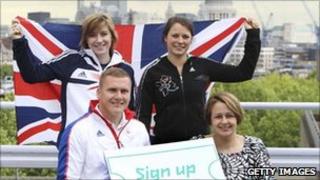 Police are warning people to watch out for scams when tickets for the 2012 Paralympics go on sale on Friday.
Officers from the Metropolitan Police's Operation Podium warned people to beware of fake tickets and illegal sales.
The general public has until 1800 on 26 September to buy tickets.
More than 4,200 athletes, with a variety of disabilities, from 150 nations will take part in the Games from 29 August to 9 September 2012.
The tickets will go on sale from 09:00 BST on Friday and police advise customers to use only the authorised London 2012 ticketing website, which has a list of sites selling unauthorised tickets.
The police say a number of criminals are setting up professional-looking fake websites.
Half of the tickets - for the 20 sports - will cost £10 or less, and 75% will be £20 or under, London 2012 has said.
Opening and closing ceremony tickets start at £20.12 and go up to £500.
Detective Chief Inspector Nick Downing, who is in charge of Operation Podium, said: "We have already seen the demand for Olympic tickets which gives criminals greater opportunity to run scams, sell non-existent tickets and even steal your personal and credit card details to use in other crimes.
"Now that Paralympic tickets are on sale, don't get caught out. Follow our simple and easy advice to make sure the ticket you buy is real. In the UK, the only official place to apply for tickets is through the London 2012 application process."
People can also apply with an application form from any Lloyds TSB branch, Bank of Scotland branch in Scotland or from any public library in Northern Ireland.
Outside the UK, Paralympic tickets will be sold through the country's National Paralympic Committee or their authorised ticket retailer.
There are only three official providers for hospitality packages - Thomas Cook London 2012 , Prestige Ticketing and Jet Set Sports .
People are warned not to buy tickets from any unauthorised source and are advised to report websites to the police or London 2012 at brandprotection@london2012.com.