Britain braced for severe gales on Sunday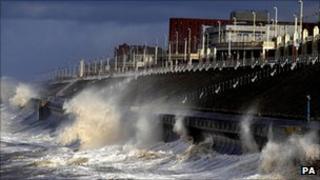 Severe gales could sweep across parts of the UK on Sunday night, causing "significant disruption" for commuters on Monday, forecasters have warned.
The Met Office has issued a "yellow" alert telling people to be aware of the risk of a "high impact" weather system.
Forecasters say the low pressure will be the remnants of Hurricane Katia, which has weakened over the Atlantic Ocean since missing the US.
Winds will not be hurricane force if they reach the UK, they add.
'Localised flooding'
The Met said much of the UK was likely to see gusty conditions throughout the weekend, with the highest winds over northern and western regions.
Chief Met forecaster Eddie Carroll said: "This sort of transition from a hurricane to more of a standard mid-latitude depression is a difficult one to predict with confidence.
"There's still a fair amount of uncertainty about the track and strength of the winds."
He added: "Although it will be very windy everywhere, it is uncertain as to exactly which parts of the country will see the very strongest winds - so we advise everyone to stay up to date with the very latest forecast warnings."
He said western coasts were at particular risk from localised flooding, as the predicted high winds could coincide with high tides.
At its peak, Katia was rated a category four hurricane on the Saffir-Simpson scale, which rates them from one to five, five being the strongest.
It is the second major hurricane of the 2011 Atlantic season, after Irene in August.