Pubs welcome proposed entertainment licence overhaul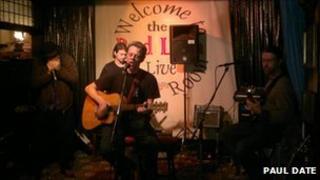 As the pints are pulled, pubs across the country hope for a busy night.
And at the Ropemakers in the market town of Bridport, Dorset, the band is tuning up.
Entry for the gig is free, there's always a good crowd and landlord John Baker wants it to stay that way.
"We don't charge on the door for any of our bands, if it gets more expensive we would have to look at that as an option and I don't feel that's where music should be, certainly not at a grass-roots level," he said.
Running a business comes at cost - a cost which can easily mount up if tight industry regulations aren't followed.
However things could be set to change.
The Licensing Act 2003, which came into force in 2005, has been criticised for reducing the number of places where artists can play, even to small audiences, at a time when some pubs are struggling to survive.
Under new proposals, existing red tape forcing pubs, clubs and live music venues across England and Wales to pay for entertainment licences could be scrapped.
'Good local talent'
As part of the shake-up, backed by the British Beer & Pub Association, most events involving fewer than 5,000 people could be exempt from the need to seek costly permits.
The Department for Culture, Media and Sport said the act removed the so-called two-in-a-bar rule, which had allowed two musicians to perform in a pub without needing an entertainment permit, and this was one example of how it "ended up potentially criminalising a harmless cultural pastime".
Mr Baker, who runs the pub with wife Geraldine, said it would give the pub industry a welcome boost as well as encouraging talent.
"We have got quite an active live music scene anyway but I know some pubs who have stopped putting music on," he added.
"It's a good thing and I'm hopeful it will get through. The roots of where music occurs, especially in public, is on the pub scene."
It's a thought echoed 300-miles away at the Sand Dancer on the seafront in South Shields, South Tyneside, which also has a successful live music scene.
Manager, Chris Brennan, said the changes would help a lot of pubs.
"It's hard to manage and own a pub these days because of costs and business rates," he said.
"There's some really good local talent coming out of South Shields so it will help them and it's something people want to see, we're always full."
Horace Trubridge, assistant general secretary of the musicians' union, said it would bring more opportunity to "fledgling talent".
"If you are a venue that relies on music as a regular thing, bringing money over the bar, you probably have an entertainment licence.
"But there's a lot of pubs that haven't, are struggling badly and would love to give live music a go and keep the pub alive and they can't do that without spending money and going through a lot of bureaucracy.
"I don't think it's about saving money, it's really much more about the opportunity and lifeline it's going to throw some of the 40 pubs closing every week."