Down time for David Cameron at food and music festival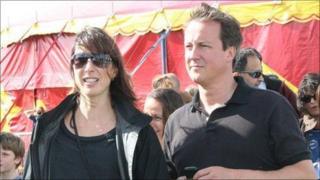 David Cameron has spoken of his love of British music and food at a festival in his Oxfordshire constituency.
The prime minister was at the event on the farm of Blur bassist turned cheese producer Alex James on Saturday, just a few miles from his home.
It brings together leading bands and celebrity chefs.
Mr Cameron said he was looking forward to seeing the Kooks headlining on Saturday night at the festival, Alex James Presents Harvest.
"Twenty years ago no one would have thought about having a British food festival, but that's a very important part of Britain today," Mr Cameron said.
"We produce some of the best food in the world and also we should be proud of our chefs and restaurants."
He added: "Food is a good reason for coming to Britain and who would have said that 20 years ago?
"I think it's probably a unique event.
"I'm not sure anyone else has tried it quite like this and Alex James, who's been the driving force behind this, mixes his two interests - the fantastic career he's had with Blur, but at the same time he's passionate about food and local produce, and here we are on his farm."
Straw bale
Mr Cameron was at the festival with his wife Samantha and three children.
He was also seen talking to Top Gear presenter Jeremy Clarkson and comedian Harry Enfield, two of the other guests at the event.
He said of Alex James's own produce: "I've had his cheese and I'm just about about to go and have another go at it right now."
However, Mr Cameron said he and his family had Mexican food for lunch at the festival.
"It's a lovely day for the family and I've got my three children and we're having a great time," he said.
"The mixture of food and music is a great one and there are plenty of things for the children to do," Mr Cameron said, as he perched on a straw bale, in front of the main stage, which was part of a maze for children to play on.
"I'm off to Russia tomorrow night and so I've got a lot on my plate at the moment and this is a bit of down-time with the children."
He added: "I've been to a few Cornbury festivals just down the road. I went there last year. I watch Glastonbury on the TV. That's the right way to do that one."
Other artists appearing at the festival include KT Tunstall and the Christians, while Hugh-Fearnley Whittingstall and Rachel Allen are among the chefs. A sister festival - Harvest at Jimmy's, hosted by Jimmy Doherty - is taking place in Suffolk.