Met Police commissioner candidates face final interviews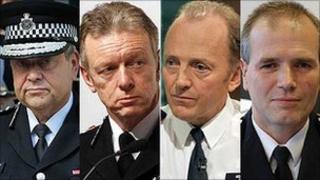 The final interviews for the job of the next Metropolitan Police commissioner are taking place later.
The Met Police Authority has spoken to the four candidates, recommended two, and ranked them in order of preference.
But Home Secretary Theresa May and London Mayor Boris Johnson decided to also jointly question all of them.
They are Acting Met Commissioner Tim Godwin, Strathclyde's Stephen House, current Acpo chief Sir Hugh Orde and ex-Merseyside head Bernard Hogan-Howe.
'Impressive' candidate
The new commissioner, who will head Britain's largest police force, will be appointed by the Queen on the recommendation of the home secretary, who must take into account the views of Mr Johnson and the Metropolitan Police Authority (MPA).
Mr House, who was asked to apply for the job by Home Office officials, and Mr Hogan-Howe were seen as front-runners for the post.
But after the first round of interviews, Sir Hugh, formerly chief constable of the Police Service of Northern Ireland, has since emerged as the man best-equipped to head the capital's police force.
One City Hall source said: "MPA members who interviewed Sir Hugh Orde said he was very impressive.
"It will raise serious issues - including questions about fairness and transparency - if they are ignored and the home secretary appoints whom she wants regardless."
Last week a panel of MPA members recommended that only Sir Hugh and Mr Hogan-Howe go forward to be interviewed by the home secretary and the mayor.
But they ignored that recommendation and decided to see all four candidates.
'Crime fighter'
Mr House spent six years in senior posts at the Metropolitan Police before becoming chief constable of Strathclyde in 2007, where he has won praise for tackling gangs.
Mr Hogan-Howe applied for the post after being re-appointed to Scotland Yard by Mrs May when Sir Paul Stephenson resigned as commissioner in the wake of the phone-hacking scandal.
Mr Godwin is at this stage seen as an outside bet, says BBC home affairs correspondent Danny Shaw.
The home secretary has said she wants a "single-minded crime fighter" to lead the Met while the Mayor of London says it should be someone in the mould of the hard-nosed television detective Jane Tennison, from the Prime Suspect series, our correspondent adds.
Mrs May said she would have a "further conversation" with the mayor, and expected to make a recommendation to the Palace later on Monday.
Last week she told the home affairs select committee that the timing of the announcement was not entirely down to the Home Office.
She said: "We will be interviewing candidates on Monday, whether we'll be able to make an announcement on Monday will depend on practicalities... we cannot make an announcement until a decision has formally been taken by Her Majesty The Queen."