Liam Fox 'proud' of UK arms and defence manufacturers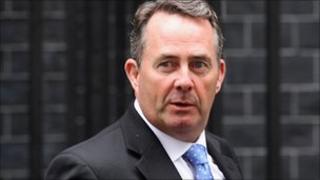 Defence Secretary Liam Fox is expected to give strong backing to the country's arms manufacturers in a speech later.
Mr Fox will say at an arms exhibition in London he is "proud" that the UK is the world's second biggest defence exporter and that helping the firms prosper is in the national interest.
In April, a committee of MPs criticised the government for approving exports to states such as Libya and Egypt.
The UK defence and aerospace sector employs an estimated 300,000 people.
In a speech to mark the opening of the DSEI exhibition, Mr Fox will say the companies "play a key role" in promoting foreign policy objectives and furthering what he calls "enlightened international engagement".
He is also expected to stress the industry's importance in stimulating economic growth.
However, earlier this year, ministers past and present were said to have "misjudged" the risk of selling weapons to repressive regimes.
The cross-party Committees on Arms Exports Controls heard how - as recently as 2010 - the UK approved sales of weapons and ammunition to Libya, Bahrain and Egypt.
The government insisted there was no evidence UK equipment had been used in the military crackdown on protesters and has since revoked about 160 export licences.
Protesters are expected to march against the arms fair on Tuesday, after a blanket ban on marches in five east London boroughs was lifted in four areas, solicitors say. Legal firm Christian Khan said the ban imposed on 2 September in response to concerns over an English Defence League demonstration now only applied to Tower Hamlets.
Human rights
In his speech, Mr Fox will acknowledge the need for strict controls and say that respect for human rights is important when considering arms sales.
But he will also tell the event that the UK's export licensing regime is already one of the toughest in the world.
The biennial DSEI exhibition, which will take place in London's Docklands, claims to be the world's biggest combined defence and security exhibition.
Thousands of delegates from around the world will gather to see the latest technology, from tanks and missiles to body armour.
Among the exhibitors are the likes of British-based defence giant BAE Systems, Boeing Defence and Lockheed Martin.