Newspaper review: Banking reforms debated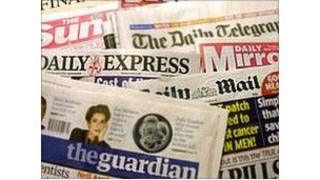 Tuesday's papers debate the impact of the Vickers Report on banking reform but also devote coverage to the kidnap of a British woman in Kenya.
The Financial Times says the City is facing massive upheaval and the changes will cost the banks up to £7bn.
These costs are likely to be passed on and could threaten the system of free banking, suggests the Telegraph..
But the Guardian says the reforms are not as draconian as some had hoped - and will take a long time to implement.
The Daily Mail reports that special forces are joining the search for the British woman kidnapped by a gang in Kenya who shot dead her husband.
The Sun says "crack SBS troops" and Royal Marines are both involved.
Claims that police are looking into whether the attackers were tipped off by hotel staff appear in the Mirror..
The Telegraph says the 56-year-old woman may struggle to communicate with her captors once the batteries in her two hearing aids run down.
The Times leads with a claim that police investigating a suspected slavery ring believe more than 100 people may have been held prisoner across the country.
It links the rescue of 24 men in Leighton Buzzard, Beds, with raids carried out at four other travellers' sites.
Meanwhile, becoming a father can halve men's testosterone and turn them into cooing softies, reports the Mail..
It says US scientists found the most hands-on dads saw the biggest fall.
The Guardian carries the findings of a report which claims rebel forces in Libya as well as Gaddafi loyalists have committed killings and torture.
Amnesty International says reprisal attacks by opposition fighters have gained less international attention.
Separately, the Telegraph also interviews Nato secretary general Anders Fogh Rasmussen.
He says a stable government must be quickly set up to stop Libya falling into the hands of Islamic extremists.