Police 'kettle' tactic challenged in European Court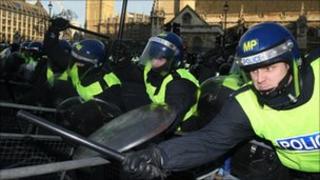 The controversial police tactic of "kettling" during mass demonstrations will be challenged in the European Court of Human Rights on Wednesday.
Human Rights campaign group Liberty argues officers breached people's rights during May Day protests in 2001.
Liberty says one of its clients, George Black, 62, was not a protester but was caught in a "kettle" for hours without access to food, water or the toilet.
The Metropolitan Police said it was unable to comment on the case.
"Kettling" is a containment tactic whereby large numbers of demonstrators are detained within a police cordon.
'Disorientated' feeling
The case centres on Mr Black who says he was stopped by officers while walking to a local bookshop because of an ongoing anti-globalisation demonstration.
The self-employed researcher, librarian and music teacher says he was told to take a parallel road to Oxford Street but as he did so, he was cordoned off by riot police on nearby Margaret Street and pushed back into Oxford Circus, where he and others were trapped.
They were held in the rain with no access to food, water or toilet facilities and was not released for about seven hours which left him feeling very disorientated, according to Liberty.
Mr Black's case is being heard alongside that of Lois Austin, a demonstrator also caught in the police cordon, and two other parties.
Liberty's legal director James Welch said the tactic has not been considered by the European Court before.
He said: "Previous domestic rulings have suggested police tactics that day were not unlawful because they didn't amount to detention - how was this anything other than detention?
"Mr Black was innocently going about his business and yet he and others were held for more than seven hours in very unpleasant conditions.
"The police should be able to deal with violent demonstrations without resorting to kettling."
'Proportionate' action
The Met Police has previously defended its use of the containment tactic.
Last week, the High Court ruled that the police force acted lawfully when they held three teenagers during the tuition fee protests in London last November.
Judges dismissed the teenagers' claim for damages for alleged human rights violations, saying the Met's action was "necessary, proportionate and lawful".
In April, the High Court ruled police were "not justified" in using the tactic to control G20 protests.