London 2012: Buckingham Palace to star in new art project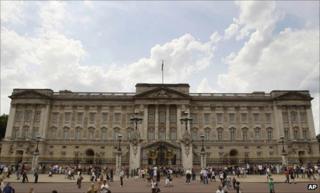 A montage of children's self-portraits will be projected onto the front of Buckingham Palace to form a portrait of the Queen during her Diamond Jubilee year.
The display is part of a new art project called Face Britain, which has been launched for youngsters aged between four and 16 around the UK.
The portraits will also be displayed on BBC Big Screens, which become official London 2012 Live Sites next year.
And they will be shown nationwide alongside pictures from celebrities.
Contributions are expected from Alan Rickman, Jeremy Irons, Fearne Cotton, Amir Khan, Ade Adepitan, Dame Tanni Grey-Thompson, Tracey Emin, Quentin Blake, James Naughtie and other big names.
The pictures will be posted on the Face Britain online gallery from now until the end of March next year.
All portraits from the online gallery will be combined to create a montage portrait of the Queen, which will be projected onto the frontage of Buckingham Palace in the Spring.
Face Britain, created by The Prince's Foundation for Children and the Arts, is the UK's largest mass collaborative art project.
Organisers also hope to try to set a new world record for the most artists working on the same art installation.
The current record is 28,267 participants who worked together to create an artwork resembling the Israeli flag in 2009.
Registration packs have been sent out to every school in the UK along with a letter from author and former Children's Laureate Michael Morpurgo.
Speaking on film at the launch, The Prince of Wales said: "I firmly believe that everyone should have the opportunity, at an early age, to be given access to and to be inspired by the arts.
"Sustained access to performance and visual arts can empower children to explore their creativity and to enhance their personal development and self-esteem."
The Queen's Diamond Jubilee weekend takes place from 2-5 June 2012.