Community justice plan outlined by policing minister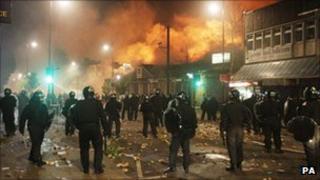 Community action should be harnessed to "quickly" resolve less serious crimes, the UK's policing minister has said.
Nick Herbert outlined plans for a new form of neighbourhood justice at the Police Superintendents Conference in Warwickshire.
He wants volunteers and magistrates to be given powers which could replace some of the use of court fines.
Labour said it had already introduced "tougher and more effective" community sentences while it was in government.
Mr Herbert cited the riots across England this summer as an example of powerful community action.
'Mockery of justice'
"We are exploring a role for robust restorative approaches, where offenders make amends to victims, in a new form of 'neighbourhood justice'," he said.
"The response to the riots showed us the power of community action when people come together in a shared determination to look after their streets.
"'Neighbourhood justice' could involve magistrates, returning them to a central role in their local communities, and volunteers working with the police."
The new system would not be an alternative to the criminal justice system, he said, but a "carefully guarded" return of power and responsibility to communities.
The aim would be to solve less serious crimes "quickly and rigorously", he added.
"The riots saw local criminal justice agencies and people pull together as never before. We must draw on that positive experience to transform justice," Mr Herbert said.
"We can be proud of the fundamental principles of fairness, independence and due process that characterise our system. But that shouldn't excuse its inefficiency or weaknesses.
"Justice should be swift, sure and seen to be done, or it is not done at all."
He said penalties imposed instead of a court appearance, such as cautions and penalty notices for disorder, currently account for a third of cases brought to justice.
Whilst they are useful tools, if penalties and fines are wrongly used or go unpaid, a mockery is make of justice, he said.
Shadow justice secretary Sadiq Khan said: "Labour believes in a justice system which puts communities' at its heart - that's why in government we introduced tougher and more effective community sentences.
"But people will be worried if, at a time when we are seeing thousands of front line job losses in the prison and probation service, these proposals are merely the Tory-led government's latest desperate attempt to cover for their cuts to the police and justice system which go too far, too fast."