Police 'kettle' tactic oppressive, lawyer tells court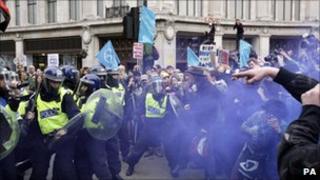 Police "kettling" tactics are like a fishing trawler catching everything indiscriminately in its path, a lawyer has told judges in Strasbourg.
Ben Emmerson QC told the European Court of Human Rights the practice of containment was clearly "oppressive".
He argued keeping people cramped up without basic facilities for up to seven hours violated their rights.
But David Pannick QC, representing the government, said the tactic was deployed purely to protect the public.
Ben Emmerson QC said "kettling" was a recent and highly controversial method that police had managed effectively without for decades.
'No food'
"Like the netting on a fishing trawler, this police cordon caught up everything and everyone in its path in an entirely indiscriminate haul," he told the court.
"There was no prior warning, it involved more than seven hours of confinement in cramped and difficult conditions without even the most basic facilities, and the results, we say, were plainly the hallmarks of oppressive policing."
"Kettling" was used during mass May Day protests in central London in 2001, when police blocked off part of Oxford Circus and held those inside for seven hours.
Human rights group Liberty argues officers breached people's rights, including its client George Black, 62, who it says was held without food, water or access to a toilet despite not being a protester.
The Metropolitan Police said it was unable to comment on the case.
David Pannick QC said the human rights code guaranteeing liberty was not meant to concern "mere restrictions of movement".
'Protect the public'
He said the duration of the kettling tactic in 2001, although relevant, was not decisive in determining whether there was a "deprivation of liberty" within the code.
Its purpose was solely to protect the public from imminent violence which could risk death, he added.
He likened the situation to holding people at an airport, in traffic or at a football ground to ensure crowd safety.
Judges will decide later whether to reject the case or agree to hear it.
Last week, the High Court ruled the police force acted lawfully when they held three teenagers during the tuition fee protests in London last November.
Judges dismissed the teenagers' claim for damages for alleged human rights violations, saying the Met's action was "necessary, proportionate and lawful".
But in April, the High Court ruled officers were "not justified" in using the tactic to control G20 protests.
The Met has previously defended its use of the tactic.