Newspaper review: Efforts to remedy eurozone crisis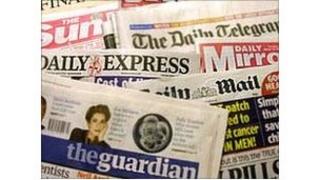 Efforts by France and Germany to ensure the future of the eurozone feature prominently in many of today's papers.
The Independent says the intervention in the crisis of European Commission president, Jose Manuel Barroso, is an ultimatum to Germany to "act now". .
The Telegraph quotes the Polish finance minister as saying that if the eurozone was to fail then the EU would not last.
Markets are jittery because of mixed messages coming from the German government, adds the Financial Times..
The Daily Mail declares the "End Of The Sell-By Date" under new government guidelines which aim to reduce waste and simplify food labelling.
The paper says £12bn of edible food is binned unnecessarily every year, at a cost to a typical family of £680.
The Mirror is one of several papers to report on research that dark chocolate may be as good for you as exercise. .
A study on mice suggests it contains an ingredient that boosts muscles in a similar way to using a running machine.
The Guardian reports on pressure on David Cameron to soften his deficit strategy after a wave of redundancies in central and local government.
It cites the Institute of Directors and the Prince's Trust, as joining the opposition in demanding urgent action to boost a flagging economy.
Figures showing 110,000 public sector jobs were lost between April and June are "staggering", says the Telegraph.
It notes that a forecast in March said only 20,000 such jobs would be lost.
The Times leads with an Iain Duncan Smith interview, where he blames inner-city "ghettos" for last month's riots.
He says the middle classes have largely ignored those living on grim council estates and paid the price "when the inner city finally came to call".
Finally, there's little sympathy for union calls for co-ordinated industrial action by public sector workers over changes to their pensions.
The Sun warns of a "winter of hate" and calls union leaders "fatcat bullies"..