Sir Stuart Peach named as new UK joint forces commander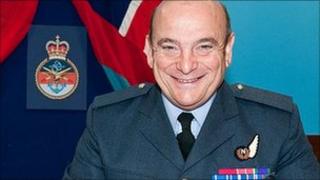 Air Marshal Sir Stuart Peach has been named as the first commander of the new UK joint forces command.
The unit will bring together elements of the Royal Navy, Army and RAF to oversee areas such as intelligence and cyber-warfare.
Its creation was recommended in Lord Levene's review of defence efficiency.
Sir Stuart, who is a former head of defence intelligence and current chief of joint operations, will take up his new position in December.
'Tremendous opportunity'
Sir Stuart will assume the role on promotion to Air Chief Marshal.
He is currently responsible for the planning and execution of UK-led joint and multi-national operations.
The Ministry of Defence said his focus would be to establish a small headquarters by April next year before delivering full capability 12 months later.
Sir Stuart said: "I am honoured and delighted by this appointment. The creation of the joint forces command represents a tremendous opportunity for the UK armed forces to deliver effective capability for the challenges that lie ahead.
"I look forward to working for defence to deliver, within my command, the very best from Her Majesty's Armed Forces."
Initial details of the composition of joint forces command and the location of its headquarters are expected in October.
In his review of Ministry of Defence efficiency, Lord Levene said the independence of each service made it harder to do "joined-up" thinking.
'Key reform'
Some key military capabilities which cut across all three services were not organised as coherently or effectively as they should be, he said, arguing that future conflicts would demand more integrated capability.
The new command aims to ensure the services work together as effectively as possible.
Defence Secretary Liam Fox said: "I have always been clear that I am determined to reform the way the MoD is run and bring it into the 21st Century.
"The review carried out by Lord Levene set out a clear framework for a stronger department through far-reaching reform. The creation of the joint forces command is a key part of this reform."
The unit's creation comes as the US has shut down its own joint forces command as part of defence cuts.