Sandhurst Military Academy is like 'Hogwarts with guns'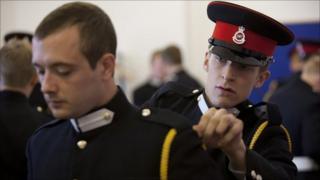 The Royal Military Academy at Sandhurst has trained the leaders of the British army - and armies further afield - for 200 years. The infamous first five weeks of training are renowned for being one of the toughest experiences most people will ever go through.
"I have heard it described as Hogwarts with guns and I think that's quite an apt choice of words because of all the pomp and ceremony."
Officer Cadet Ian Thompson is unusual for Sandhurst. At 25 he is the oldest non-graduate recruit his team leader has encountered at the academy.
There are 269 recruits in his "commissioning course", including the great-great-grandson of former Prime Minister Lloyd George.
"I think if people had gone to boarding school they would be more comfortable with the whole situation," Ian admits.
The recruits all arrive on day one with their families in tow, a bag of belongings each and their own ironing board.
Ironing and cleaning will feature heavily in their time at Sandhurst.
The first night at 02:00, Ian is still organising his kit and belongings ready for an early morning inspection.
"It's like one minute you can go to the pub, and you can just turn on the telly and you can just do whatever you want. And then you come here and - look at me. You're writing down your name and your number on shirts, like you were about five years old and you've got all this kit and it's just pretty mental to be honest."
Fellow officer cadet Will Bright, 24, calls Sandhurst "man school". He says he still feels like a boy and hopes Sandhurst will turn him into a man.
For Ian, coming to Sandhurst is something he always wanted to do.
"I was with my girlfriend for a long time and we split up a year ago, effectively kicking me into touch and giving me the impetus to think I've got to do something for me now.
"I've always wanted to do it and I thought I might as well give it a crack now. I'm not getting any younger."
There is a lot for Ian to get used to.
As well as ensuring they have perfectly made beds and pristine, ironed uniforms, the recruits must arrange their belongings in a set pattern, with exact spaces in between. Any mistakes lead to shouting and press-ups, often for the whole group.
On day two of training, Ian is getting to grips with cleaning the barracks.
"I had a little moment yesterday when I thought, 'No, I want to jack (it in)'," he admits.
"Everyone I've spoken to said they had that little feeling but then you've come this far, you've gone through it all and to jack it in in the first week would just be lunacy."
Officer Cadet Batty however, does ask to leave on day two.
He was 16 when he decided he wanted to join the Army but after attending university, he tells them that taste of freedom has changed him.
He is told he cannot leave (or in Army terms be "discharged of rights") until week four, but they say they will let him leave if he gives it a go until the next weekend.
Penalty press-ups
Morning starts with the recruits singing the National Anthem and then they must drink their water bottles in front of Colour Sergeant Vezza to ensure they keep up their fluids.
"It's conformity to the max and that's quite a shock," admits Ian.
He gets on well with his fellow recruits but there is clearly no time for getting to know each other. Five days in and he admits he has no idea what his room-mate's full name is. "I don't know his first name and he doesn't know mine. I am just learning everyone's second name."
He is teased by his fellow recruits for not being very good at marching but at the same time managing to avoid doing any penalty press-ups.
Ian also struggles with the correct way to leave a room after talking to a superior officer. This protocol includes a salute, the phrase "leave to carry on sir, please", a turn and march.
He earns the nickname Frank Spencer as he is made to repeat it over and over until he gets it right.
The physical challenges though prove the most testing. A night manoeuvre sees seven recruits put on "Platoon Commander's warnings" for falling asleep.
If they fell asleep on duty as a soldier they would face 28 days in jail. They are told in no uncertain terms - and in colourful language - it is their last chance.
A 70km (43-mile) trek in 36 hours tests them to the limits too. It leads to one cadet being formally warned he is not making the grade and is told he is a "weak and ineffectual" leader. He decides to leave.
At the end of the term parade Ian has mastered marching. His group are praised by Sergeant Major Martin Topps as an extraordinary team of drillers.
There are now just two more terms to get through.
Sandhurst starts on BBC Four on Monday 19 September, 21:00 BST.