Former MI6 chief denies UK and Libya were too close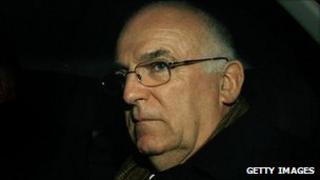 A former head of MI6 has denied that British intelligence became too close to Muammar Gaddafi's regime in Libya.
Sir Richard Dearlove said the relationship was "pragmatic" not "cosy" during the time the two countries co-operated against Islamist terrorism.
Sir Richard acknowledged there had been difficulties and dangers but said all operations had had political clearance.
The UK has been accused of co-operating with the secret rendition of Islamist suspects to face torture in Libya.
The claims followed the discovery of papers in the ransacked offices of Col Gaddafi's former regime in Tripoli, which related to the last Labour government.
Prime Minister David Cameron has said the claims will be investigated during the Gibson Inquiry, which will examine Britain's role in the mistreatment of terrorism suspects.
Sir Richard, who led the secret intelligence service from 1999 to 2004, said: "I resent the suggestion the relationship with Gaddafi was cosy.
'Serious calculation'
"It was not a cosy relationship, it was a pragmatic one. It was a political decision, having very significantly disarmed Libya, for the government to co-operate with Libya on Islamist terrorism.
"The whole relationship was one of serious calculation about where the overall balance of our national interests stood."
He added: "It has always been pretty clear that our governments in the UK have accepted that danger and that difficulty and have given political clearance for that sort of co-operation."
Sir Richard led MI6 when former Prime Minister Tony Blair brought Col Gaddafi in from the diplomatic cold after the invasion of Iraq in 2003.
During an address to the Henry Jackson Society international think tank at Westminster, he said that relationship had been based on Britain's national interest.
He also pointed out MI6's "phenomenal" success in disarming Libya, which had begun a nuclear weapons programme.
Meanwhile, Mr Cameron has praised Libya's interim authority for the way it has established control over the country.
During a visit to Tripoli with French President Nicolas Sarkozy, he said Col Gaddafi should give up and dismiss his mercenary fighters.
The visit was the first by Western leaders since Col Gaddafi was ousted last month.