Army plea over public parcels sent to Afghanistan troops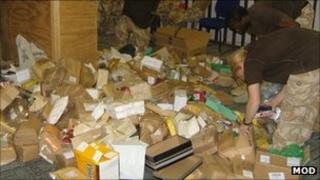 British troops in Afghanistan are facing delays to personal mail because of the "unmanageable" volume of unsolicited parcels sent by the public.
Army chiefs said they appreciated the generosity, but that mail from loved ones was held up as a result - especially around the Christmas season.
Parcels often include goods such as toiletries, which are easy to get abroad, said the Ministry of Defence.
The public is instead being urged to donate to an approved service charity.
Maj John Leeper, commanding officer for Operation Herrick Postal and Courier Squadron, said personal mail - such as a letter from a spouse or a child's drawing - was vital for soldiers' morale.
"Unfortunately though, the system can be completely overwhelmed by the public's generous donations, which results in mail from family and friends being delayed," said Major Leeper.
"The huge and unmanageable number of welfare parcels sent by well-meaning members of the public, particularly in the run-up to Christmas, causes real difficulties."
The MoD said parcels often included items such as woolly hats - despite Afghanistan's hot climate - and gifts such as toiletries, which are easy for troops to buy locally.
Instead of sending unsolicited parcels, the public is being asked to donate to one of the MoD's recommended service charities - for example, UK4U Thanks!, which provides a Christmas Day parcel for all servicemen and women serving overseas.