Newspaper review: Arrest of UBS rogue trader dominates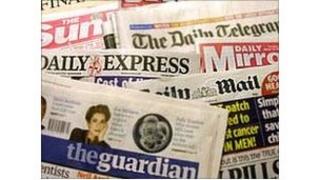 Kweku Adoboli - the trader suspected of a £1.3bn fraud at Swiss bank UBS - appears on most of Friday's front pages.
"I need a miracle", reads the Mail's headline. It is one of the papers that says he posted a "desperate" message on Facebook in the days before his arrest.
The Telegraph describes him as hard-working and fun-loving - the trader who appeared to be one long success story.
The Financial Times reports that staff at UBS are "shell-shocked" by what it says is a "catastrophic loss".
There is also plenty of coverage of David Cameron's visit to Libya. The Express believes he is fully entitled to the applause that greeted his visit.
But the Independent takes a different tone, arguing the visit looked premature and was too much, too soon.
The Times says the triumphalism of the day deliberately contrasted with the "mission accomplished" rhetoric of the US after Saddam Hussein was overthrown.
For the Financial Times it was a rare embrace of the West by an Arab country.
"Trapped in the Pit of Hell" is how the Daily Mirror's front page describes four miners trapped in south Wales.
The Sun and the Daily Star say the rescue effort taking place 295ft (90m) underground is a race against time.
The Guardian quotes a friend of one of the miners who says he was just trying to provide for his family - "people don't go mining for fun", he says.
A witness quoted by the Daily Express says the men are very experienced miners and "as hard as nails".
The Independent is among the papers to reveal that astronomers have discovered a planet straight out of Star Wars.
The planet, 200 million light years away, orbits two stars rather than one and so enjoys a double sunset.
Finally, The Sun reports that children's TV favourite Postman Pat is going to be appear in a Hollywood film.
It says the movie - a 3D digital animation due out in 2013 - will feature the voices of David Tennant, Rupert Grint and Jim Broadbent.