Prison numbers in England and Wales reach record high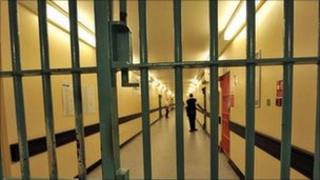 The prison population in England and Wales has reached a record high for the second week running, Ministry of Justice figures show.
The department said the number of inmates stood at 87,120, up from the previous record of 86,842.
The prison population has been swelled by last month's riots, and includes those being held on remand.
The government has insisted there will be enough prison places for anyone jailed for the violence and looting.
The latest figures show about two-thirds of the 1,715 people brought before the courts over the riots have been remanded in custody.
This compares with one in 10 of those charged with a serious indictable offence last year.
'Existing criminals'
Of the 315 people so far convicted as a result of the riots, 176 have received a prison sentence. The average length of these terms is just over 11 months.
The average sentence for violent disorder was 10.4 months, which compares to 5.3 months for the same offence last year.
For burglary, the average was 14.1 months for the riots and 8.8 months last year.
The figures showed that almost three-quarters of those appearing before the courts in connection with the rioting had a criminal record, although two-thirds of these had never been to jail.
Justice Secretary Kenneth Clarke said it confirmed that "existing criminals were on the rampage" during the riots.
The jail population is about 1,600 short of the usable operational capacity of prison in England and Wales, which stands at 88,747.
Usable operational capacity is the point and which prisons can be controlled, kept secure and operate satisfactorily.
No places are currently being used under Operation Safeguard, which would involve the use of cells at police stations.
Contingency plans
A Prison Service spokesman said: "We are managing an unprecedented situation and all the staff involved should be commended for their dedication and hard work during this difficult time.
"We currently have enough prison places for those being remanded and sentenced to custody as a result of public disorder.
"We are developing contingencies to increase usable capacity should further pressure be placed on the prison estate."
These contingency plans could involve bringing forward the opening of new prison accommodation or reopening mothballed facilities.
The Howard League for Penal Reform said a record prison population "is a sign of failure, not success".
Chief executive Frances Crook said: "As the prison population reaches an all-time high, it is more important than ever to address our failing penal policy.
"People leave prison more dangerous than when they first entered having learnt criminal tricks of the trade in our colleges of crime. "