Newspaper review: Spotlight on Lib Dem ministers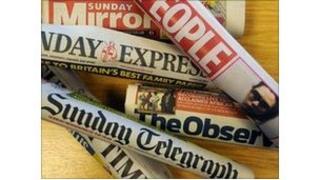 The Liberal Democrats again jostle for space on the front pages.
The Independent on Sunday says Chief Secretary to the Treasury Danny Alexander's plan to crackdown on tax evasion sounds like a similar plan announced last year.
It says this seemed like a PR plan rather than a social crusade.
The party's deputy leader Simon Hughes tells the Observer it's his party's job to rein in Conservative right-wingers pushing "extreme remedies".
'Legendary' stamina
The Sunday Mirror reports that one of the four miners killed in a Swansea Valley colliery shovelled 20 tons of coal a day by hand.
It says 62-year-old Charlie Breslin spent 10 hours a day in cold, wet darkness, and that his power and stamina was "legendary".
The People says Garry Jenkins, who also died in the incident, had only worked at the colliery for a few weeks.
It says he took the job as he was broke after recently being made redundant.
Spirited away
The Sunday Express says criminals are "stripping the UK bare" by plundering everything from power cables to railings around children's graves to cash in on the soaring price of metal.
It says gangs are travelling here from continental Europe to steal the scrap metal.
The Sunday Times reports the rising price of lamb is fuelling a rise in sheep rustling.
A flock of 1,500 animals was spirited away from a field in Lincolnshire last weekend.
Baby sunglasses
A warm spring followed by the wet summer has led to a surge in Britain's spider population, says the Observer.
The Telegraph says 200 specially-bred fen raft spiders could be released into the wild.
Meanwhile, the Mail On Sunday says anxious mothers are snapping up specially made high protection sunglasses for babies.
It says the glasses have proved a hit with parents alert to the dangers of too much sunlight.