Newspaper review: Papers uninspired by Lib Dems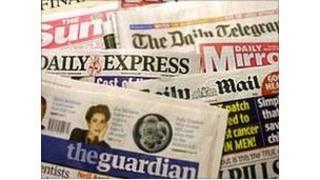 The papers are uninspired by the Liberal Democrats' conference.
The Express says they act like "members of a Leftie students' union" while the Telegraph compares them to a students' debating society.
The Times says it will serve nobody's interests if the party pursues a parallel government alongside the Conservative administration.
However, the Independent says the party is putting forward sensible measures to help spread the economic pain.
Black hole
The Lib Dems' plans to curb excessive boardroom pay make the lead for the Guardian and the Independent.
The Sun calls it an assault on City fat-cats and the well-off while the Star says Lib Dem ministers have declared war on the rich.
Meanwhile, the Financial Times says a new £12bn black hole has opened up in the public finances.
It says the forecast, based on its own research, threatens to derail the coalition's deficit reduction strategy.
Women's Institute
More than 20 leading businessmen have written to the Times expressing support for the government's controversial changes to planning rules, which are opposed by countryside groups.
Their letter says the changes are essential to providing jobs and growth.
The Telegraph reports that the Women's Institute is joining the fight against the proposals, which is also backed by environmentalists.
It is advising its members to write to their MPs and organise public meetings.
Protection
The Mail, Mirror and the Sun lead with the arrest of a man on suspicion of murder following the death of a suspected intruder at his home in Greater Manchester.
The Mirror recalls a recent government pledge that homeowners who defend themselves and their property will get more protection under law.
It says there have been two similar incidents already this year in Greater Manchester where no charges were brought.