London 2012: Million tickets not released until Spring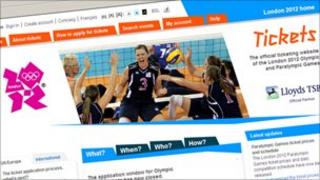 More than a million extra tickets for the London Olympics will not go on sale until next Spring.
The tickets, including thousands for all the most popular events, were held back from sale earlier this year while seating plans were finalised.
London 2012 organisers had initially said those tickets could go on sale as early as December, but that is now unlikely to happen before April 2012.
The only tickets which will be put on sale in December are for football.
Around 1.5 million football tickets were left unsold at the end of the first two sale phases. Football was the only sport which did not sell out.
There is bound to be enormous demand for the remaining non-football tickets when they are finally sold.
There will be several thousand tickets available for both the opening and closing ceremonies, which were massively oversubscribed, as well as other sought-after events like the athletics finals.
A spokeswoman for the London 2012 organising committee, Locog said that the organisation's focus is currently on the sale of Paralympic tickets , which continues until 26 September.
She added: "In December, we will put 1.5 million Olympic football tickets on sale on a live system. The remaining one million Olympic tickets, to all sports, will go on sale to the British public next year from the contingency seats, once venues are tested and licensed, and operational plans are completed."
It is still to be decided how the remaining tickets will be sold. It is likely that those who applied this year, and were unsuccessful, will be given priority.
The difficulty, though, with the tickets not being allocated until so close to the Games is that those who are lucky enough to be able to buy them could discover that transport and accommodation prices have risen in the meantime.